Press Release: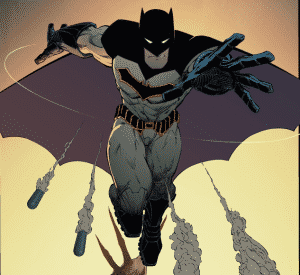 The Baltimore Comic-Con returns to Baltimore's Inner Harbor on September 28-30, 2018 at the Baltimore Convention Center. Tickets are now on sale. Baltimore Comic-Con welcomes top creators of one of comics' most iconic characters, DC Comics' Batman, including Greg Capullo, Tom King, Jeff Parker, Craig Rousseau, Scott Snyder, and Peter Tomasi.
Greg Capullo is a self taught Illustrator, working for the past five years as artist on the New York Times best-selling, highly-acclaimed Batman series for DC Comics. He is presently co-creating the Image Comics' book titled Reborn, along with writer Mark Millar. Prior to his Batman run, he was best known for his 80-issue run on Image Comics' Spawn. Other popular comics work includes Marvel Comics' X-Force and Quasar. He is also the creator of The Creech, a sci-fi/horror comic published by Image Comics. Greg has provided art for Blizzard Entertainment's World of Warcraft, contributed lead character designs for the the award-winning HBO animated Spawn series, and was the cover artist for many popular musical groups, including Five Finger Death Punch, Korn, and Disturbed.
Ringo and Eisner Award-winning Tom King is currently the writer of Batman at DC Comics, where he has also written Mister Miracle, Grayson, The Omega Men, DC Nation, Swamp Thing Winter Special, and has a story in Action Comics #1000, not to mention his award-winning work at Marvel on The Vision. King's first book, A Once Crowded Sky, a postmodern super hero novel, was recognized by USA Today as one of the best Graphic Novels of the year. He was named by the Hollywood Reporter as one of the five comic creators to watch in 2015.
Jeff Parker is best known for writing comic books, such as Agents of Atlas, X-Men First Class, Batman '66, Aquaman, Future Quest, Thunderbolts, and more. His career in comics started as an penciller at Malibu, where he provided art for Solitaire. For years, Parker made a living drawing stories, as well as commercial art and storyboards for TV. At the inaugural Mike Wieringo Comic Book Industry Awards, Parker's work on Future Quest at DC Comics won the Mike Wieringo Spirit Award.
Craig Rousseau has spent his career as an artist working on numerous noteworthy titles and runs. He has spent time on DC Comics' Batman Beyond, Harley Quinn, and Impulse, Marvel's Captain America & the Korvac Saga, Spider-Man Loves Mary Jane Season 2, and Iron Man & the Iron Wars, and he can be seen lately working on DC Comics' Batman '66, Image Comics' Perhapanauts: Danger Down Under, and Dynamite Entertainment's Pathfinder: Goblins!
Scott Snyder made a huge impact on the comic industry with his ground-breaking work in DC's New 52, writing Batman (with artist Greg Capullo) and Swamp Thing. In 2011, he received Harvey and Eisner Awards for Best New Series for his work on American Vampire. In addition to these three titles, Snyder co-wrote Talon, which spun off directly from his critically-acclaimed "Court of Owls" storyline from Batman. He is currently taking the reins of DC Comics' Justice League, writes New Challengers, and has authored such titles as Detective Comics, The Wake, Superman Unchained, All-Star Batman, Batman Eternal, Justice League: No Justice, DC Nation, Action Comics #1000, and Dark Nights: Metal.
Peter Tomasi is a writer and editor best known for his work at DC Comics. He began his career in 1993, editing such titles as Green Lantern, the Batman titles, Aquaman, Hawkman, and JSA before being promoted to Senior Editor in 2003. In 2007, Tomasi decided to move from editing to writing full-time and, in 2010, took over writing Batman and Robin with issue #20. Since the launch of the New 52, Tomasi has helmed the new volumes of both Batman and Robin and Green Lantern Corps, The Adventures of the Super Sons, Action Comics #1000, Superman, and The Kamandi Challenge at DC Comics, as well as House of Penance at Dark Horse Comics.
"Not to belittle any other character in DC or any other publisher's retinue of heroes, but Batman is clearly one of the most globally recognizable characters — even in silhouette!" said Marc Nathan, show promoter for the Baltimore Comic-Con. "We are so excited to be hosting so many of the major players contributing to the mythology of Batman today, and expect them to be in high demand by their fans!"
The Baltimore Comic-Con is celebrating its 19th year of bringing the comic book industry to the mid-Atlantic area. For more information, please visit www.baltimorecomiccon.com.