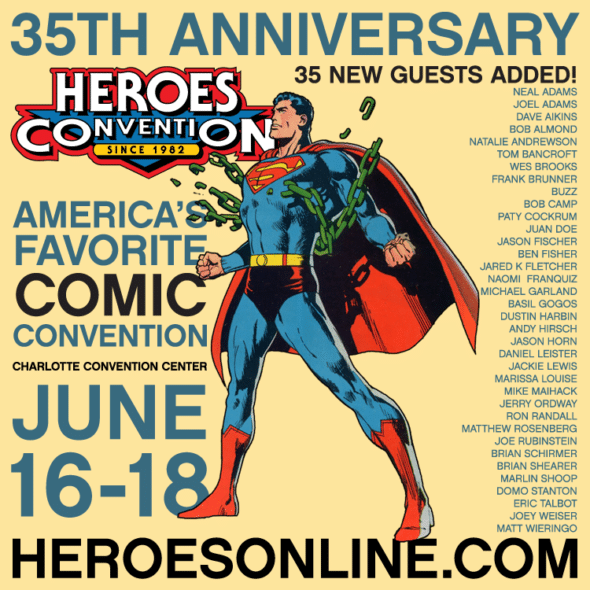 HeroesCon has announced more new guests for their 35th anniversary show including Neal Adams, Tom Bancroft, Mike Maihack, Jerry Ordway, Joe Rubinstein, Matthew Rosenberg, and more! HeroesCon 2017 takes place June 16-18, 2017 at the Charlotte Convention Center.
JOEL ADAMS | Lilz, Bucky O'Hare
NEAL ADAMS | Coming of the Supermen, Batman: Odyssey, Green Lantern, X-Men
DAVE AIKINS | SpongeBob, Dora and Friends, Zombies!!!
BOB ALMOND | Stan Lee's Guardian Project, Black Panther, Heroes For Hire, Warlock
NATALIE ANDREWSON | Mamuna, Meanwhile
TOM BANCROFT | Opposite Forces, Mulan, Tomo
WES BROOKS | Undead Speed Equipment, Grim Riders
FRANK BRUNNER | Dr Strange, Conan, Howard the Duck
BUZZ | JSA, Vampirella, Atomika
BOB CAMP | Ren & Stimpy, Thundercats
PATY COCKRUM | SATURDAY ONLY  The Cat, Nightcrawler
JUAN DOE | American Monster, Solar, X-Men:198, Legion of Monsters, Fantastic Four
JASON FISCHER | Terra Flats, Seconds, Kaijumax
BEN FISHER | Grumpy Cat, Smuggling Spirits, Hexen Hammers
JARED K FLETCHER |Paper Girls, Southern Bastards, The Goddamned
NAOMI FRANQUIZ | Misfit City, Bitch Planet, Power & Magic
MICHAEL GARLAND | The Black Monday Murders, Curse Words, Wolverine, Captain Marvel
DUSTIN HARBIN | BEHOLD! The Dinosaurs, DIARY COMICS, Nutted!, DHARBIN!
ANDY HIRSCH | The Baker Street Peculiars, Varmints, Garfield
DANIEL LEISTER | Hack/Slash
MARISSA LOUISE | Spell on Wheels, Spook House, Robocop
MIKE MAIHACK | Cleopatra in Space, Sensation Comics featuring Wonder Woman
JERRY ORDWAY | Superman , Captain Marvel, Infinity Inc., WildStar
RON RANDALL | TREKKER, Future Quest, Supergirl
MATTHEW ROSENBERG | Rocket Raccoon, Secret Warriors, 4 Kids Walk Into A Bank, Kingpin
JOE RUBINSTEIN | Wolverine, Avengers, Daredevil
BRIAN SCHIRMER | Black Jack Ketchum, Backpacers, Ultrasylvania
BRIAN SHEARER | GI Joe, Transformers, Doctor Who, William the Last
MARLIN SHOOP | LARP!, Grimm's Fairy Tales: Myths and Legends
DOMO STANTON | Starbrand & Nightmask, Prez, Deadpool, Chozen
ERIC TALBOT | Teenage Mutant Ninja Turtles, The Melting Pot
JOEY WEISER | Mermin, Spongebob Squarepants
MATT WIERINGO | Ringo Scholarship

RSVP on the Facebook event page!
For the most up-to-date information, check our blog, or sign up for the weekly Heroes Hotline newsletter. You can also follow us on Twitter and Facebook!
BUYING AN ADVANCE PASS MEANS YOU'LL GET ANY ADVANCE INCENTIVES WE OFFER, FREE!
ENTRY WILL BE $25: FRI $25: SAT $20: SUN / AT THE SHOW ITSELF, SO YOU SAVE AS MUCH AS $20 BY PURCHASING ADVANCE PASSES TODAY! TICKETS ARE NOT REFUNDABLE, UNDER CERTAIN CIRCUMSTANCES WE MAY CREDIT AN UNUSABLE TICKET TOWARD FUTURE TICKET PURCHASES.
HEROES CONVENTION was founded in 1982 by Shelton Drum, owner of Charlotte's Heroes Aren't Hard To Find comics shop. Since then the convention has become famous for its comics-first and family-friendly atmosphere, where fans can mingle directly with professionals and exhibitors. Boasting an incredible guest list built mainly on reputation and goodwill, HeroesCon is known nationwide as a "must" on the summer schedule, drawing fans, exhibitors, and creators from all over the world to the Charlotte Convention Center.