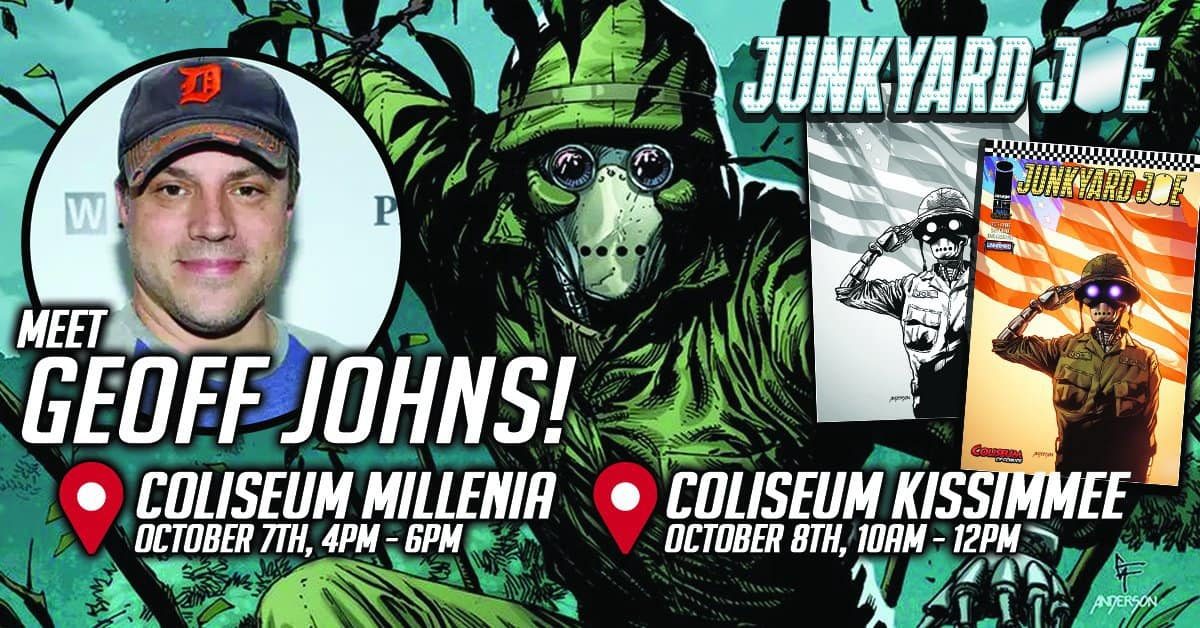 Celebrate the debut of writer Geoff Johns (Green Lantern, The Flash, JSA, Justice League) latest comic, Junkyard Joe with a two-day, on night signing this weekend!
Friday, October 7th 4pm-6pm at Coliseum Millenia.
Saturday, October 8th 10am-12pm at Coliseum Kissimmee.
RSVP on Facebook!
Visit any Coliseum of Comics to purchase a Signature, Gold or Premium Card to gain access to not just the signing, but the Coliseum-exclusive variants as well!
Signature Card: $39 – Includes the first five issues of Junkyard Joe PLUS the 1/1000 color Coliseum of Comics variant cover as well as TWO signed items at either signing.
Gold Card: $49 – Includes the first five issues of Junkyard Joe, BOTH the 1/1000 color and 1/500 Black & White Coliseum variants and FOUR signed items at either signing.
Premier Card: $99 – Includes everything the Gold Card does but also gives you access to an exclusive dinner at the Rosen Plaza Hotel and screening of Stargirl with Geoff himself at 7pm on Friday, October 7th. Limited to the first forty people who purchase.
All cards must be purchased in store. Note: the only way to acquire a coliseum of comics variant and get in line to meet Geoff Johns is to purchase any level of the above cards. variants are not currently for sale outside of this event. restrictions will apply and cards are limited.