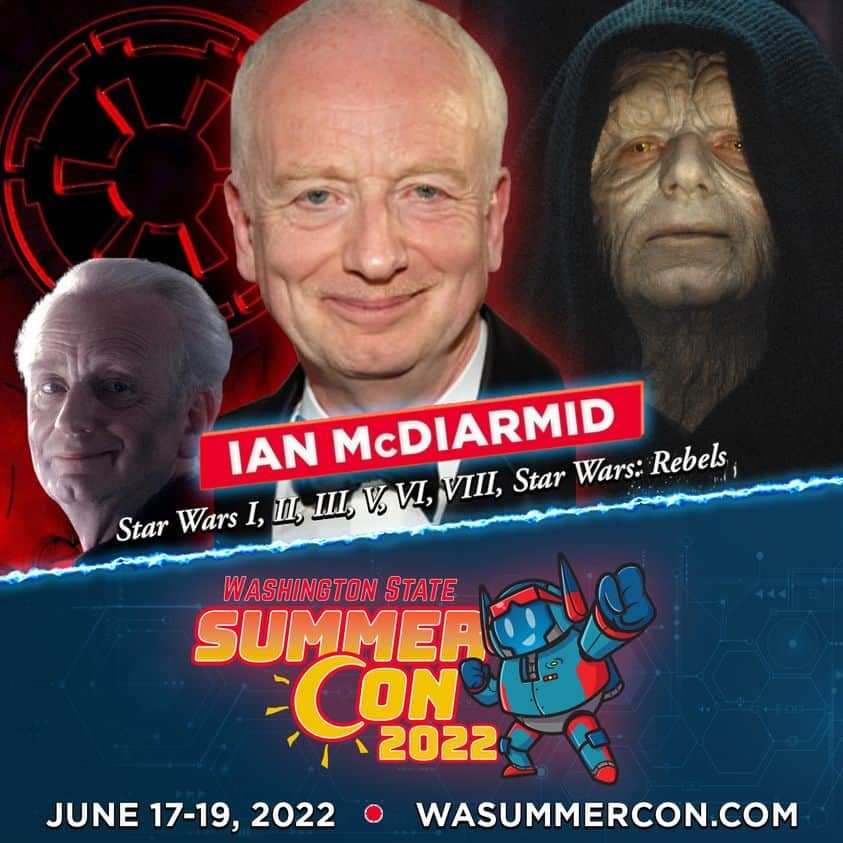 He goes by many names… Emperor Palpatine, Darth Sidious, Supreme Chancellor of the Galactic Republic, the first Emperor of the Galactic Empire, or the Dark Lord of the Sith, but we will use his real name and say that Ian McDiarmid is coming to the Washington State Summer Con June 17-19 in Puyallup.
McDiarmid spent his early years acting in British theater and later moved into television and film in the late 1970s with his casting in a supporting role in the TV series The Professionals. His first major role for Ian was getting cast as the Emperor Palpatine in Return of the Jedi.
Ian was cast in such features as Gorky Park and Dirty Rotten Scoundrels. He appeared in Tim Burton's Sleepy Hollow and then reprised the role of Emperor Palpatine for Star Wars: Episode I – The Phantom Menace, which introduced him to a new generation of Star Wars fans. He later appeared in the World War I drama All the Kings Men, Star Wars Episode II, Star Wars Episode III, and reprised his role again in the 2019 film Star Wars Episode IX.
Ian McDiarmid is one of the three actors to have appeared in all three Star Wars trilogies along with Kenny Baker (R2-D2) and Anthony Daniels (C-3PO). He was later edited into and added in for the 2004 DVD release of the original trilogy and subsequent releases. McDiarmid also worked with George Lucas on the 1992 television series The Young Indiana Jones Chronicles.
Ian has had a distinguished career in British theatre, working for the Royal Exchange Theatre, Royal Shakespeare Company, Manchester, London's Almedia Theatre, and the National Theatre of Scotland. He has won numerous Acting and Directing awards including a Tony award for the role of Teddy in Brian Friel's Faith Healer.
Ian McDiarmid will be appearing in the Pacific Northwest for the first time at the Washington State Summer Con on June 17th through the 19th in Puyallup. Come meet the Emperor at this can't miss event. Tickets will go on sale March 1st at wasummercon.com