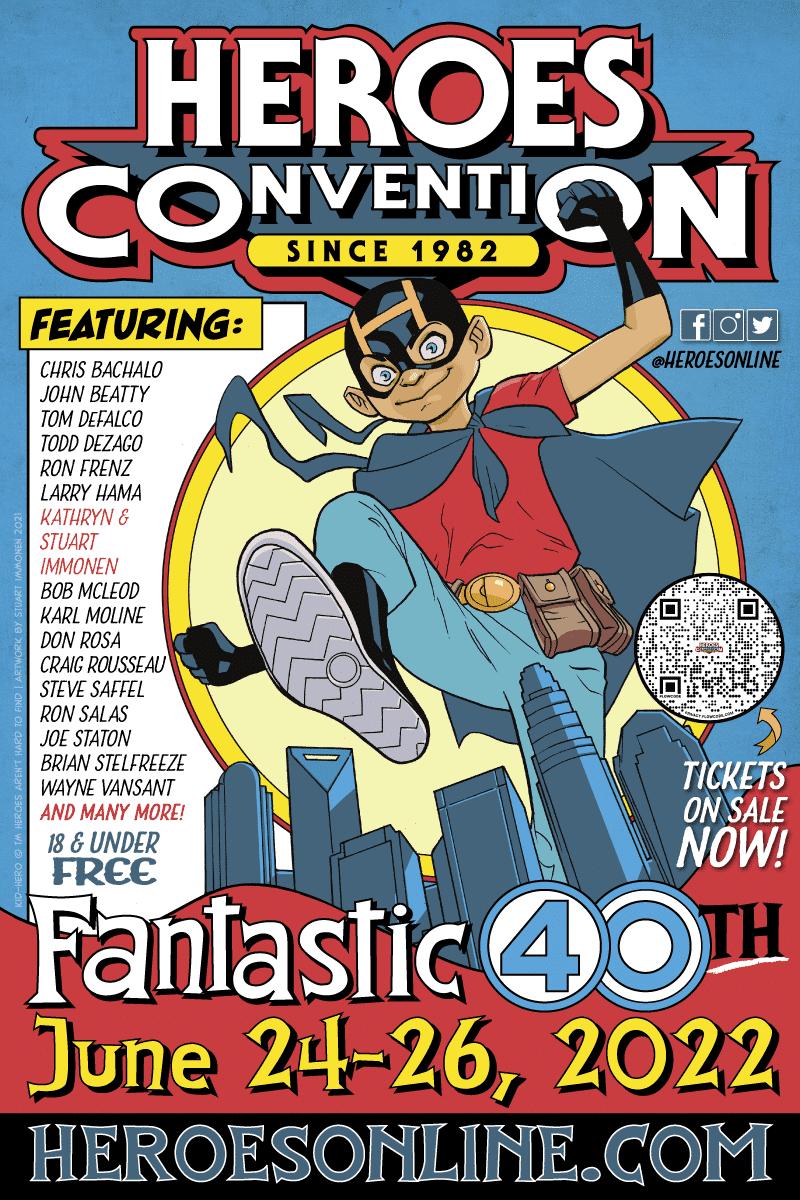 June 24-26, 2022 will mark the 40th Anniversary of the Heroes Convention! Tickets available now at the link.
You know that after TWO YEARS of pandemic handcuffs, we will pull out ALL THE STOPS to make the 2022 HeroesCon one FOR THE AGES!
ALL 2020/2021 HeroesCon Tickets, Artist Alley Tables and Exhibitor Booth Reservations have automatically transferred to the 2022 Heroes Convention at this time.
We are just getting started with our exciting announcements, and have SO MUCH MORE to come over the next 7+ months!
We can't wait for you to see what we've got in store!
HeroesCon 2022 Hotel Rate Coming Soon!
CHRIS BACHALO | AA-TBA
Shade the Changing Man, Death, Generation X, Uncanny X-Men, Steampunk
JOHN BEATTY | AA-TBA
Secret Wars, Punisher, Batman, Thanos Quest
TOM DeFALCO | AA-TBA
The Amazing Spider-Man, Fantastic Four, Machine Man, Spider-girl, Thor
TODD DEZAGO | AA-TBA
Tellos, Perhapanauts, Spider-Man
RON FRENZ | AA-TBA
The Amazing Spider-Man, Superman, Thor, Spider-girl, Ka-zar
LARRY HAMA | AA-TBA
G.I. Joe, Wolverine, Avengers, Batman
KATHRYN IMMONEN | AA-TBA
Patsy Walker: Hellcat, Runaways, Moving Pictures, Wolverine and Jubilee
STUART IMMONEN | AA-TBA
Action Comics, Amazing Spider-Man, Magic Order 2, Grass of Parnassus
BOB MCLEOD | AA-TBA
New Mutants, Spider-Man, Kraven's Last Hunt
KARL MOLINE | AA-TBA
Fray, Route 666, Buffy the Vampire Slayer: Season 8
DON ROSA | AA-TBA
The Life and Times of Uncle Scrooge, Walt Disney's Comics and Stories
CRAIG ROUSSEAU | AA-TBA
Young Hellboy, Tellos, The Perhapanauts, Spider-Man Loves Mary Jane
STEVE SAFFEL | AA-TBA
Joe Simon My Life in Comics, Spider-Man: The Icon
RON SALAS | AA-TBA
ALI, Six Million Dollar Man, Prince Valiant, Amazing Spider-Man, Existence 2.0/3.0
JOE STATON | AA-TBA
Green Lantern, E-Man, Dick Tracy, Scooby Doo
BRIAN STELFREEZE | AA-TBA
Black Panther, Day Men, Wednesday Comics, Batman
WAYNE VANSANT | AA-TBA
Katusha: Girl Soldier of the Great Patriotic War