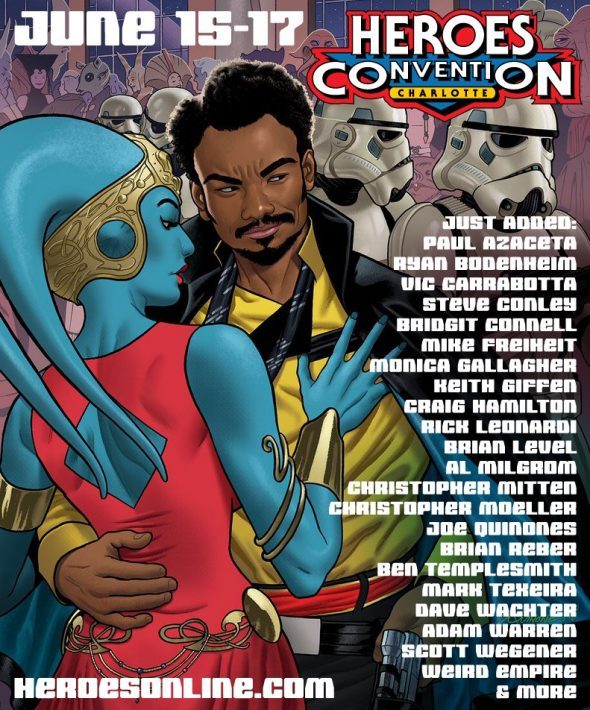 HeroesCon has announced more new guests for their 2018 show including Paul Azaceta, Ryan Bodenheim, Ivan Brandon, Bridgit Connell, Michelle Delecki, Juan Doe, Monica Gallagher, Keith Giffen, Craig Hamilton, Scott Hanna, Scott Kolins, Rick Leonardi, Al Milgrom, Rags Morales, Joe Quinones, Tom Raney, Ben Templesmith, Mark Texeira, John Van Fleet, Adam Warren, Scott Wegener, and more! HeroesCon 2018 takes place NEXT WEEK on June 15-17, 2018 at the Charlotte Convention Center.
PAUL AZACETA | AA-1016 
Outcast, Graveyard of Empires, X-Men, Spider-Man
DUANE BALLENGER | AA-1128 
Haunted Samidge, Uptight, Wide Awake 666
STEVE BIRD | AA-618 
Robin, Detective Comics, The Crow
RYAN BODENHEIM | AA-816
The Dying & The Dead, Red Mass for Mars, Bloodshot, Black Panther, Wolverine
IVAN BRANDON | AA-1015 
Black Cloud, Drifter, Viking
BOB CAMP | AA-420-422
Ren & Stimpy, Thundercats
J CHRIS CAMPBELL | AA-1127
Creator of Neatobots, Zig Zag & Publisher of Wide Awake Press
VIC CARRABOTTA | AA-502
Golden Age Artist for Atlas Comics & Marvel Comics
STEVE CONLEY | AA-512
The Middle Age, Bloop, Astounding Space Thrills
BRIDGIT CONNELL | AA-1110
Brother Nash
JARED CULLUM | AA-1125 
Jim Henson's The Storyteller, Pea Green Coffee Cup
RICK DAVIS | AA-628 
Sheena, Negative Burn, Warrior Nun
MASON DICKERSON | AA-1121
Take-Out Deluxe, Los Tres Perdidos, Peach Tree, Patty Island
JUAN DOE | 
Dark Ark, American Monster, X-Men:198, Legion of Monsters, Fantastic Four
MIKE FREIHEIT | AA-1120 
Monkey Chef: A Love Story, Tales of Freelancia, Go F*ck Myself!
ERIK FREITAS | AA-1130 
Judge Dredd, Godzilla, Ninja Turtles
MONICA GALLAGHER | AA-1216 
Part-Time Princesses, Bonnie N. Collide Nine to Five, Boobage
KEITH GIFFEN | AA-303 
Legion of Super-Heroes, Lobo, Ambush Bug, Justice League, Scooby Apocalypse
JOSHUA GREATHOUSE | AA-614 
Boom cover artist
CRAIG HAMILTON | AA-1515
Aquaman, Starman, Fables, The Spectre
SCOTT HANNA | AA-302 
Guardians of the Galaxy, Spider-Man, Batman, X-Men
JAMES JAMESON | AA-304 
American Gods
SCOTT KOLINS | AA-304 
Flash, Avengers, Justice League, Spider-Man, Larfleeze
RICK LEONARDI | AA-1401 
Cloak and Dagger, X-Men, Spider-Man 2099 
BRIAN LEVEL | AA-807 
Avengers, Spider-Man, Namor, Inhumans, Deadpool, Batman, Hellblazer
CHRISTOPHER MITTEN | AA-1519 
Rasputin, Umbral, Wasteland, 30 Days of Night
CHRISTOPHER MOELLER | AA-1503 
Lucifer, Iron Empires, Magic:The Gathering 
RAGS MORALES | AA-529-530 
JSA, Hawkman, Amory Wars
JOE QUINONES | AA-701
America, Howard the Duck, Star Wars, Black Canary/Zatanna
TOM RANEY | AA-509 
Infinite Crisis, Batman-Superman, Phantom Limb Ghost Puncher
BRIAN REBER | AA-1315 
Spider-Man, Deadpool, Venom
BUDD ROOT | AA-607 
Cavewoman
NIKKI RYAN | AA-1517 
The Family Trade
RON SALAS | AA-830 
Six Million Dollar Man, Northguard, Prince Valiant, Amazing Spider-Man
STORME SMITH | AA-1130
Buño Books
JOHNDELL SNEAD | AA-621 
Robyn Hood, Grimm Fairy Tales, Back to the Future, Rez
CHRIS SPARKS | AA-724
Team Cul de Sac, The Art of Richard Thompson
DURWIN TALON & GUIN THOMPSON | AA-1505 
Beautiful Scars, Bonds, Batman
BEN TEMPLESMITH | AA-1518
The Squidder, Choker, Wormwood: Gentleman Corpse
MARK TEXEIRA | AA-1603 
Wolverine, Ghost Rider, Moon Knight, Sabretooth, Jonah Hex
ROB ULLMAN | AA-1129 
Atom-Bomb Bikini, Old-Timey Hockey Tales, Traffic & Weather
JOHN VAN FLEET | AA-1504 
Batman, Typhoid, The X-Files
DAVE WACHTER | AA-1011 
Breath of Bones, The Guns of Shadow Valley, Godzilla: Cataclysm
ADAM WARREN | HERO INITIATIVE: BOOTH-1022
Empowered, Dirty Pair, Gen 13
SCOTT WEGENER | AA-1204 
Atomic Robo
JOHN WYCOUGH | AA-620 
Star Wars, G.I.Joe, Doctor Who, Transformers, Fear Itself, Chaos War
A.C. ZAMUDIO | AA-1507 
The Sixth Gun, The Remains
CARLOS NICOLAS ZAMUDIO | AA-1508 
Death Follows, We(L)come Back, Imaginary Drugs
CANCELLATIONS:
ROGÊ ANTONIO
PATRICK DEAN
MICHELLE DELECKI
JOEY ELLIS
MATT FRACTION
MATT HORAK
CASEY JONES
HOPE LARSON
JACKIE LEWIS
BRITTANY PEER
JAMES ROBINSON
CHRIS VISIONS
For the full guest list with table assignments please go here….
For the most up-to-date information, check our blog, or sign up for the weekly Heroes Hotline newsletter. You can also follow us on Twitter and Facebook!
BUYING AN ADVANCE PASS MEANS YOU'LL GET ANY ADVANCE INCENTIVES WE OFFER, FREE!
ENTRY WILL BE $25: FRI $25: SAT $20: SUN / AT THE SHOW ITSELF, SO YOU SAVE AS MUCH AS $20 BY PURCHASING ADVANCE PASSES TODAY! TICKETS ARE NOT REFUNDABLE, UNDER CERTAIN CIRCUMSTANCES WE MAY CREDIT AN UNUSABLE TICKET TOWARD FUTURE TICKET PURCHASES.
HEROES CONVENTION was founded in 1982 by Shelton Drum, owner of Charlotte's Heroes Aren't Hard To Find comics shop. Since then the convention has become famous for its comics-first and family-friendly atmosphere, where fans can mingle directly with professionals and exhibitors. Boasting an incredible guest list built mainly on reputation and goodwill, HeroesCon is known nationwide as a "must" on the summer schedule, drawing fans, exhibitors, and creators from all over the world to the Charlotte Convention Center.