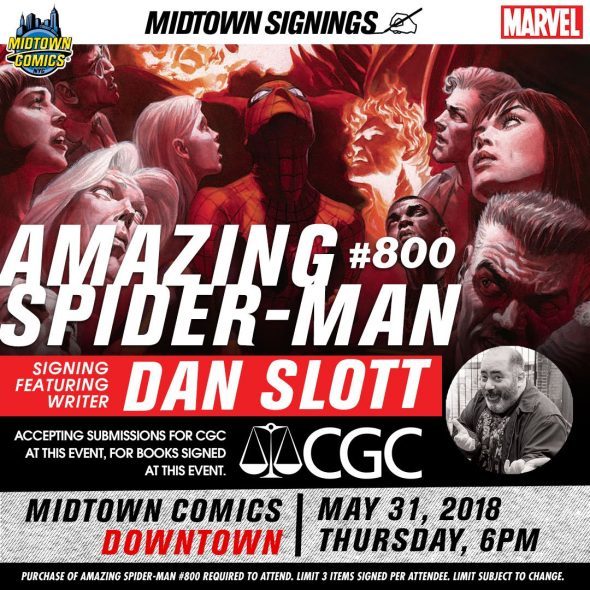 Writer Dan Slott (Silver Surfer, upcoming Fantastic Four) appears at Midtown Comics Downtown on Thursday, May 31st to celebrate the release of Amazing Spider-Man #800! This is an open signing and we recommend showing up early, just to be safe. Purchase of Amazing Spider-Man #800 required. Limit 3 items signed per attendee (Limit subject to change). Signing runs from 6 PM – 8 PM.
There will be a CGC representative to grade books signed at this event. Any previously signed books are not eligible for this service. Cost of CGC is $10.00 + CGC grading fee (This does not include the cost of purchasing the books)
CGC books will be shipped to CGC offices for grading and will take 17-35 days for them to return, in the CGC protective slab. This is determined based on which options are chosen for CGC grading and shipping.
Spider-Man has faced many ferocious foes in his famed time as New York's resident wall-crawler, but one has proven to be the deadliest of all! Norman Osborn has terrified and traumatized Peter Parker for years, but now he's determined to decimate him for good! With the powers of the Red Goblin, Norman has never been more dangerous and it's time for Spidey to go down swinging! Dan Slott and Stuart Immonen celebrate 800 issues of Marvel's most storied adventure series with a face-off years in the making! Who lives?! Who dies?! Check out the action in Amazing Spider-Man!
Midtown Comics Downtown
64 Fulton Street, New York, New York 10038
(212) 302-8192