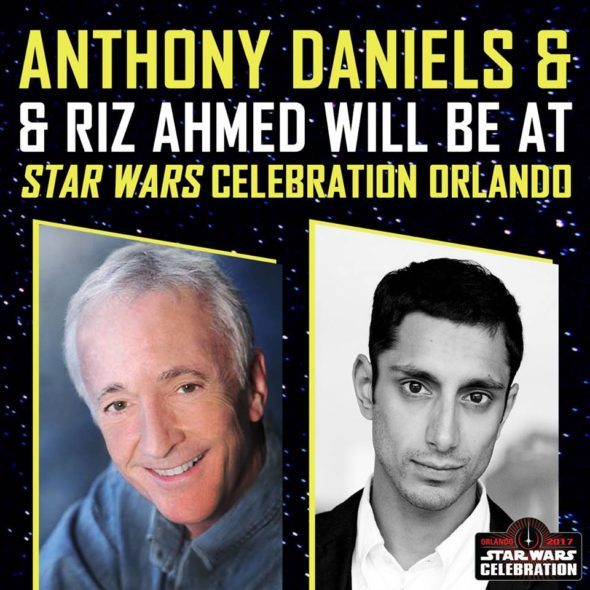 Anthony Daniels, who plays C-3PO, and Riz Ahmed, who played Bodhi Rook in Rogue One, will be at Star Wars Celebration!
Anthony Daniels; C-3PO: Star Wars Saga
The only actor to work on all eight Star Wars movies, Anthony is the heart and soul of the golden robot C-3PO. He is also the legs, arms and voice.
Leaving drama college in 1974, Anthony won a BBC Award, which gave him a place in their Radio Drama Company. After hundreds of productions, he left to go into theatre, shortly joining the National Theatre of Great Britain at The Young Vic. It was whilst playing in Stoppard's Rosencrantz & Guildenstern Are Dead, a story of two humble characters caught up in events beyond their control, that he got the call to meet George Lucas about a new sci-fi movie.
Lucas was interested in Anthony's acting and mime skills. Anthony on the other hand wasn't interested at all. Having asked for his money back after walking out of 2001 – A Space Odyssey, he had never been attracted by the worlds of sci-fi. Though he did eventually meet the director, it was a concept painting of the character that actually got his interest. He found the script incomprehensible but liked the golden droid and so was thrilled to be offered the role. The next day he was covered in plaster to make a mould of his body, the first step in creating the now globally recognised character. Six months later the costume was almost ready and filming began on what would become Star Wars: A New Hope. Later Lucas would try to replace Anthony's on set vocal performance with the voices of various Hollywood actors. Eventually he decided nothing fitted the original like the original and asked Anthony to re-record his own character voice.
This led to him returning to the set of The Empire Strikes Back and Return of the Jedi. His participation in The Phantom Menace was as an off-camera voice but for Attack of the Clones he took over the arduous puppetry of the 'naked' C-3PO, subsequently re-shooting his scenes in the rusty suit, once again providing live action and voice. Fully gold and shining in Revenge of the Sith, Anthony is the only actor to feature in all eight Star Wars films.
Anthony has been involved in many of the spin-offs. Amongst other events, as the golden character he performed in the radio dramatisations, tap-danced on The Muppet Show, promoted measles and polio vaccines, wrote and produced anti-smoking commercials, danced with Donny and Marie Osmond, took part in the Oscar Ceremonies, befriended Big Bird on Sesame Street, filmed and voiced the animated figure in Disney's original Star Tours ride attraction, recently being promoted to be the reluctant pilot in Star Tours – The Adventures Continue, became a breakfast cereal, Kellogg's C-3POs, conducted the London Symphony and the Boston Pops Orchestra, and had his own cartoon series, Droids.
Anthony has been proud to work on and present The Magic of Myth, The Art of Star Wars and Star Wars – Where Science Meets Imagination and The Power Of Costume exhibitions in their various locations around the world. He has presented a variety of symphonic events and was the on-stage narrator for the international arena spectacular, Star Wars in Concert in its three North American, European and Japanese tours. He has also brought C-3PO to life in the animated Clone Wars, Rebels, Lego Star Wars and The Yoda Chronicles series. Most recently he appeared in 2016's Star Wars: Rogue One.
Although the Star Wars saga has formed a major part of Anthony's working life, he has interspersed it with a variety of television and stage appearances, ranging from sitcoms to more serious dramas, with forays into the world of horror cult movies. He was the voice of Legolas in the original Lord of the Rings animation. He is also a presenter, producer and creative designer of trade events and conferences and a visiting scholar at the Entertainment Technology Center at Carnegie Mellon University. He lives with his wife, Christine, in England and the south of France.
Riz Ahmed; Bodhi Rook, Rogue One: A Star Wars Story
Riz Ahmed is a three-time nominated Best Actor by the British Independent Film Awards for his lead roles in Shifty, Four Lions and Ill Manors. He was the lead of HBO's breakout hit show The Night Of. Riz' previous credits include Paul Greengrass' Jason Bourne, Dan Gilroy's Nightcrawler, John Crowley's Closed Circuit, and Michael Winterbottom's Trishna. Most recently he starred as a former Imperial pilot turned hero of the Rebellion, Bodhi Rook, in 2016's Rogue One: A Star Wars Story.
For tickets and further information please go to the website: www.starwarscelebration.com