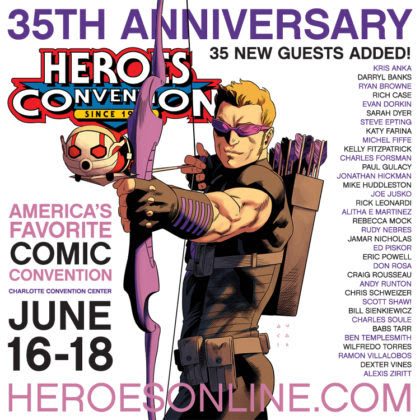 HeroesCon has announced 35 new guests for their 35th anniversary show! HeroesCon 2017 takes place June 16-18, 2017 at the Charlotte Convention Center.
KRIS ANKA | Star-Lord, Captain Marvel, X-Men, X-Force
DARRYL BANKS | Green Lantern, Legion of Super Heroes, JLA
RYAN BROWNE | Curse Words, God Hates Astronauts, Manhattan Projects, Bedlam
RICHARD CASE | Spider-Man, Doom Patrol, Hunter: The Age of Magic, Annie Ammo
EVAN DORKIN | The Eltingville Club, Beasts of Burden, Milk & Cheese, Dork!
SARAH DYER | Calla Cthulhu, DC Nation, Beasts of Burden, Action Girl Comics, MAD
STEVE EPTING | Velvet, Captain America, Avengers
KATY FARINA | Steven Universe, Rick and Morty, Amazing World of Gumball
MICHEL FIFFE | Copra, Zegas, Twisted Savage Dragon Funnies
KELLY FITZPATRICK | Bitch Planet, Josie and the Pussycats, Shade the Changing Girl
CHARLES FORSMAN | Slasher, Revenger, TEOTFW, Celebrated Summer
PAUL GULACY | Master of Kung Fu, Sabre, Batman
JONATHAN HICKMAN | Black Monday Murders, East of West, The Manhattan Projects, Avengers
MIKE HUDDLESTON | Butcher Baker, The Strain, The Beauty
RICK LEONARDI | Cloak and Dagger, X-Men, Spider-Man 2099
ALITHA E MARTINEZ | Black Panther: World of Wakanda, Riverdale, Barbie, Batgirl, Iron Man
REBECCA MOCK | Knife's Edge, Compass South, Spera, vol. III, Hana Doki Kira Anthology
RUDY NEBRES | Dr. Strange, Conan, Deadly Hands of Kung Fu, Eerie, Creepy
JAMAR NICHOLAS | Leon: Protector of the Playground, Fist Stick Knife Gun, Detective Boogaloo: Hip-Hop Cop
ED PISKOR | Hip Hop Family Tree, Wizzywig, American Splendor: Our Movie Year
ERIC POWELL | The Goon, Big Man Plans, Hillbilly
CRAIG ROUSSEAU | Avengers, Perhapanauts, Batman Beyond, Impulse
ANDY RUNTON | Owly
CHRIS SCHWEIZER | The Creeps, Crogan's Loyalty, Crogan's Vengeance, Crogan's March
SCOTT SHAW! | Captain Carrot and His Amazing Zoo Crew, Simpsons, Flintstones
BILL SIENKIEWICZ | Elektra: Assassin, Stray Toasters, New Mutants
CHARLES SOULE | Daredevil, Poe Dameron, Letter 44, Curse Words, Wolverine, She-Hulk
BABS TARR | MotorCrush, Batgirl
BEN TEMPLESMITH | The Squidder, Choker, Wormwood: Gentleman Corpse
WILFREDO TORRES | Jupiter's Circle, The Shadow: Year One, Lobster Johnson, Aliens
RAMON VILLALOBOS | Nighthawk, E Is For Extinction
DEXTER VINES | Amazing X-Men, Nova, Buffy the Vampire Slayer, Hulk
ALEXIS ZIRITT | Space Riders, Tarantula, The Package
RSVP on the Facebook event page!
For the most up-to-date information, check our blog, or sign up for the weekly Heroes Hotline newsletter. You can also follow us on Twitter and Facebook!
BUYING AN ADVANCE PASS MEANS YOU'LL GET ANY ADVANCE INCENTIVES WE OFFER, FREE!
ENTRY WILL BE $25: FRI $25: SAT $20: SUN / AT THE SHOW ITSELF, SO YOU SAVE AS MUCH AS $20 BY PURCHASING ADVANCE PASSES TODAY! TICKETS ARE NOT REFUNDABLE, UNDER CERTAIN CIRCUMSTANCES WE MAY CREDIT AN UNUSABLE TICKET TOWARD FUTURE TICKET PURCHASES.
HEROES CONVENTION was founded in 1982 by Shelton Drum, owner of Charlotte's Heroes Aren't Hard To Find comics shop. Since then the convention has become famous for its comics-first and family-friendly atmosphere, where fans can mingle directly with professionals and exhibitors. Boasting an incredible guest list built mainly on reputation and goodwill, HeroesCon is known nationwide as a "must" on the summer schedule, drawing fans, exhibitors, and creators from all over the world to the Charlotte Convention Center.