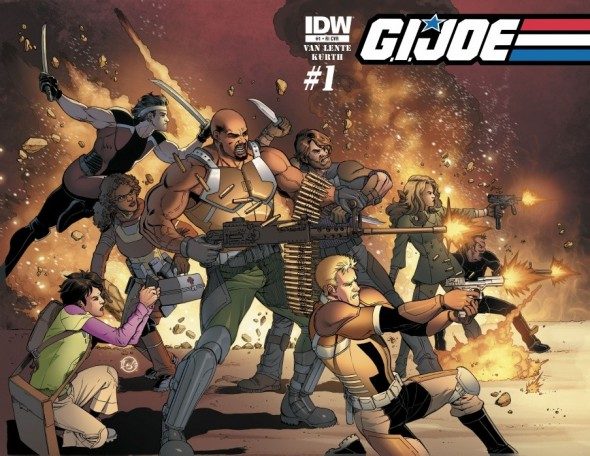 Fred Van Lente and Larry Hama kick off the new GI JOE Series on Saturday, February 16th at The Comic Book Shop with special guest Mark Bellomo! RSVP on Facebook!
————————————————————————————————
The Real American Heroes are beginning a new era with a new ongoing series from IDW Publishing and we couldn't be more excited!
Writer FRED VAN LENTE (Comic Book History of Comics) will be at our shop to showcase his new direction for the team, whose secret identities have been exposed!
Joining him will be GI JOE LEGEND and writer of the original comic book series LARRY HAMA who is once again writing GI JOE: REAL AMERICAN HERO!
Toy and Pop Culture authority MARK BELLOMO has made special arrangements to attend so he can speak geek with us! He's written THE ULTIMATE GUIDE TO GI JOE: 1982-1994, ART OF TRANSFORMERS: FALL OF CYBERTRON, and TOTALLY TUBULAR 80'S TOYS.
—————————————————————————————————
RALLY THE TROOPS FOR A DAY OF GI JOE!
**SALE on ALL GI JOE Comics and Action Figures!**
**GI Joe Costume Contest!**
**Raffles for GI Joe Comics and Toys!**
*****All proceeds from the raffles PLUS a portion of the day's sales will be donated to soldiers in need! *****
—————————————————————————————————
You may know FRED VAN LENTE's work from Valiant's relaunch of ARCHER & ARMSTRONG, last year's ALPHA FLIGHT series, CHAOS WAR, HULK: SEASON ONE, INCREDIBLE HERCULES, several volumes of MARVEL ZOMBIES, and indie favorite ACTION PHILOSOPHERS!
Now he's bringing our favorite elite fighting force into modern situations – and on US soil – including new characters which reflect updated tech and current environments that our real life soldiers face every day.
The flagship series will be drawn dark and moody by Van Lente's long-time collaborator STEVE KURTH (Iron Man: Legacy.)
The Comic Book Shop
1855 Marsh Road, Wilmington, DE 19810