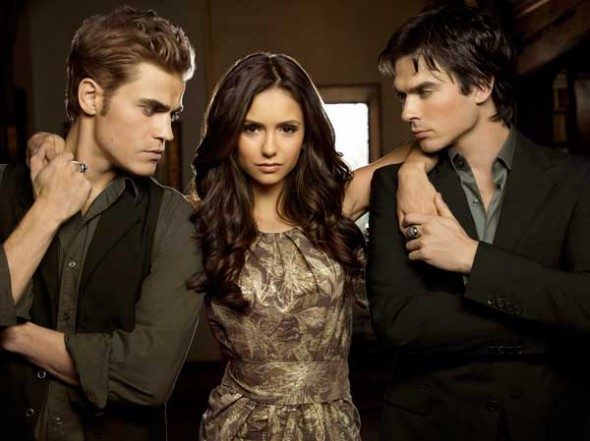 Press Release:
29 DAYS, 23 HOURS, 15 MINUTES AND COUNTING…WARNER BROS. TELEVISION GROUP ANNOUNCES SCHEDULE FOR COMIC-CON INTERNATIONAL: SAN DIEGO
Stars and Producers of "The Big Bang Theory," "Chuck," "Fringe," "Nikita," "Supernatural," "The Vampire Diaries," "Alcatraz," "Person of Interest," "The Secret Circle," "Childrens Hospital," "Green Lantern: The Animated Series," "The Looney Tunes Show," "MAD," "Scooby-Doo! Mystery Incorporated," "ThunderCats" and "Young Justice" To Appear
Warner Bros. Entertainment's Nearly 3,000-Square-Foot Booth to Host Signings, Special Events, Digitally Driven Fan Giveaways and More
BURBANK, Calif. (June 21, 2011, 10:45 AM PT: 29 days, 23 hours, 15 minutes until #WBSDCC) — The clock is ticking, and Comic-Con is right around the corner! By bringing 16 series to Comic-Con International: San Diego, Warner Bros. Television Group (WBTVG) further strengthens its presence at the world's leading pop culture convention — and will deliver a one-of-a-kind experience for fans in the process. The anticipation is building as a star-studded lineup of performers and producers from Warner Bros. Television and Warner Bros. Animation series prepare for a robust schedule of panel sessions, screenings, media appearances and autograph signings.
For a complete social media contact list, including official Facebook pages and Twitter feeds for WBTVG series, talent and producers, download the social media contacts page here:www.thewb.com/comiccon/2011WBSDCCSocialMedia
PLEASE NOTE: Series stars and creative teams scheduled to attend are subject to change.
RETURNING FAVORITES
"The Big Bang Theory": Stars Johnny Galecki, Jim Parsons, Kaley Cuoco, Simon Helberg, Kunal Nayyar, Mayim Bialik and Melissa Rauch join creators/executive producers Chuck Lorre and Bill Prady, and executive producer Steven Molaro
"Chuck": Stars Zachary Levi, Yvonne Strahovski, Joshua Gomez, Ryan McPartlin, Mark Christopher Lawrence, Vik Sahay, Scott Krinsky with Sarah Lancaster and Adam Baldwin join co-creator/executive producer Chris Fedak for a panel to discuss the fan-favorite spy series' final season
"Fringe": Stars Anna Torv, Lance Reddick, Blair Brown, Jasika Nicole and John Noble join executive producers Jeff Pinkner and J.H. Wyman
"Nikita": Stars Maggie Q, Shane West and Lyndsy Fonseca join executive producer Craig Silverstein
"Supernatural": Series stars Jared Padalecki and Jensen Ackles will topline the panel, held this year for the first time ever in Hall H. Additional cast members and executive producers to be announced.
"The Vampire Diaries": Stars Nina Dobrev, Paul Wesley, Ian Somerhalder, Candice Accola and Joseph Morgan join executive producers/writers Kevin Williamson and Julie Plec
"Childrens Hospital": Star/executive producer Rob Corddry and executive producers Jonathan Stern join stars Malin Akerman, Lake Bell, Erinn Hayes, Rob Huebel and Megan Mullally
NEW SERIES
"Alcatraz": Stars Sarah Jones and Jorge Garcia join executive producer Elizabeth Sarnoff
"Person of Interest": Stars Jim Caviezel, Michael Emerson and Taraji P. Henson join executive producers Jonathan Nolan and Greg Plageman
"The Secret Circle": Stars Britt Robertson, Thomas Dekker, Phoebe Tonkin and Natasha Henstridge join executive producers/writers Kevin Williamson, Andrew Miller and Richard Hatem
WARNER BROS. ANIMATION
"Green Lantern: The Animated Series": Executive producer Bruce Timm will join producer Giancarlo Volpe and producer/story editor Jim Krieg for a panel moderated by executive producer/Warner Bros. Animation's Sam Register
"The Looney Tunes Show": Supervising producers Spike Brandt and Tony Cervone, story editor Hugh Davidson and writer Rachel Ramras
"MAD": "MAD" television show producers Kevin Shinick and Mark Marek, along with MADmagazine editor John Ficarra, art director Sam Viviano and "Spy vs. Spy" artist Peter Kuper
"ThunderCats": Producers Michael Jelenic and Ethan Spaulding, and art director Dan Norton
"Young Justice": Producers Brandon Vietti and Greg Weisman, and lead character designer Phil Bourassa
Download additional panel details, including the complete schedule with times and locations, here:www.thewb.com/comiccon/2011WBSDCCPanels
THE BOOTH
And it wouldn't be Comic-Con without a visit to the Warner Bros. booth. The Studio will once again have a can't-miss, nearly 3,000-square-foot destination on the convention floor, at space #4545. Anchored by the iconic Warner Bros. Water Tower, the booth is a must-visit location for autograph signings, multiple interactive kiosks for fans to play video games from Warner Bros. Interactive Entertainment, and much, much more. Stay tuned to @TheWBdotcom on Twitter orwww.thewb.com/comiccon in the coming weeks for more details about activities at the booth.
SPECIAL SNEAK PEEK PILOT SCREENINGS
WEDNESDAY, JULY 20 • 6–9 PM • BALLROOM 20
WBTVG continues its Comic-Con tradition of hosting a special sneak peek premiere event on preview night. This year, the Studio is offering fans the opportunity to see some of the most anticipated new premieres of the year.
"Alcatraz": Executive producers J.J. Abrams and Elizabeth Sarnoff deliver a chilling new midseason drama for FOX revolving around America's most infamous prison, the one-time home to the nation's worst murderers, rapists, kidnappers, thieves and arsonists.
"The Secret Circle": The ordinary becomes extraordinary in this romantic drama about a coven of young witches, from "The Vampire Diaries" executive producer Kevin Williamson, based upon the book series by L.J. Smith ("The Vampire Diaries").
"Person of Interest": From J.J. Abrams and "The Dark Knight" co-writer Jonathan Nolan comes an action-packed hour for CBS about an ex-CIA operative and a mysterious billionaire who team up to stop violent crimes before they happen in New York City.
"Supernatural: The Anime Series": The popular series "Supernatural" makes history this summer as the first-ever live-action show to be re-imagined in Japanese anime style. Renowned animation studio Madhouse — working with the full approval of series creator Eric Kripke — produced the anime series, which mirrors the story arc of "Supernatural's" first two seasons, providing supplemental stories ranging from prequels and spin-offs to untold tales that fit within the "Supernatural" mythology.
THE TV SERIES SCHEDULE
FRIDAY, JULY 22
"MAD": 10:00–11:00 a.m., Room 25ABC
"The Big Bang Theory": 12:30–1:30 p.m., Ballroom 20
"Childrens Hospital": 1:30–2:20 p.m., Indigo Ballroom, Hilton San Diego Bayfront
"Green Lantern: The Animated Series": 2:00–3:00 p.m., Room 6BCF
"ThunderCats": 3:30–4:30 p.m., Room 6A
SATURDAY, JULY 23
"Chuck": 10:00–10:45 a.m., Ballroom 20
"The Vampire Diaries": 3:30–4:15 p.m., Ballroom 20
"Fringe": 4:15–5:00 p.m., Ballroom 20
"Alcatraz": 5:00–6:00 p.m., Ballroom 20
"The Secret Circle": 5:10–6:00 p.m., Room 6BCF
"Nikita": 6:00–6:45 p.m., Room 6BCF
"Person of Interest": 6:45–7:30 p.m., Room 6BCF
SUNDAY, JULY 24
"Young Justice": 10:00–11:00 a.m., Room 7AB
"Supernatural": 11:15 a.m.–12:15 p.m., Hall H
"Scooby-Doo! Mystery Incorporated": 1:00–2:00 p.m., Room 6A
"The Looney Tunes Show": 2:15–3:15 p.m., Room 6A