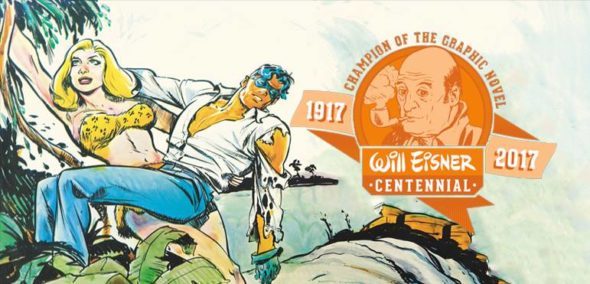 Press Release:
Join Collector's Paradise Pasadena and the Pasadena Public Library on Saturday March 11th at 2:00 PM to celebrate the legendary graphic artist, Will Eisner (1917-2005), and the 100th anniversary of his birth. Eisner was a pioneer in the creation of comics during the "Golden Age" of the 1930s and '40s, achieving fame with his noir crime-fighting superhero, The Spirit. At one time or another, many comics greats worked with Eisner including Jules Feiffer, Wally Wood, Jack Kirby, Al Jaffee, and Mike Ploog.
Eisner devoted himself to producing educational and instructional sequential art, a term he coined. In 1978, Eisner once again reinvented himself – and the medium – with his graphic novel, A Contract with God. Will Eisner's graphic novels and textbooks are still in print in 15 worldwide languages. The prestigious Will Eisner Awards, the "Oscars of the Comics Industry," are presented at San Diego
Comic-Con, the world's largest comics convention. 
Pasadena Public Library's Eisner celebration will feature a panel discussion moderated by Julie Benson of the Nerdist Comics Panel and comics artists and authors; Ben Acker, Ben Blacker, Meg Hutchison, Collin Kelly, Jackson Lanzing, Andrew Miller, Richard Starkings, and James Tynion IV. Books will be for sale and signing following the event. The Nerdist will be recording the panel for a podcast.
Pasadena Public Library
285 E Walnut St, Pasadena, CA 91101
(626) 744-4066