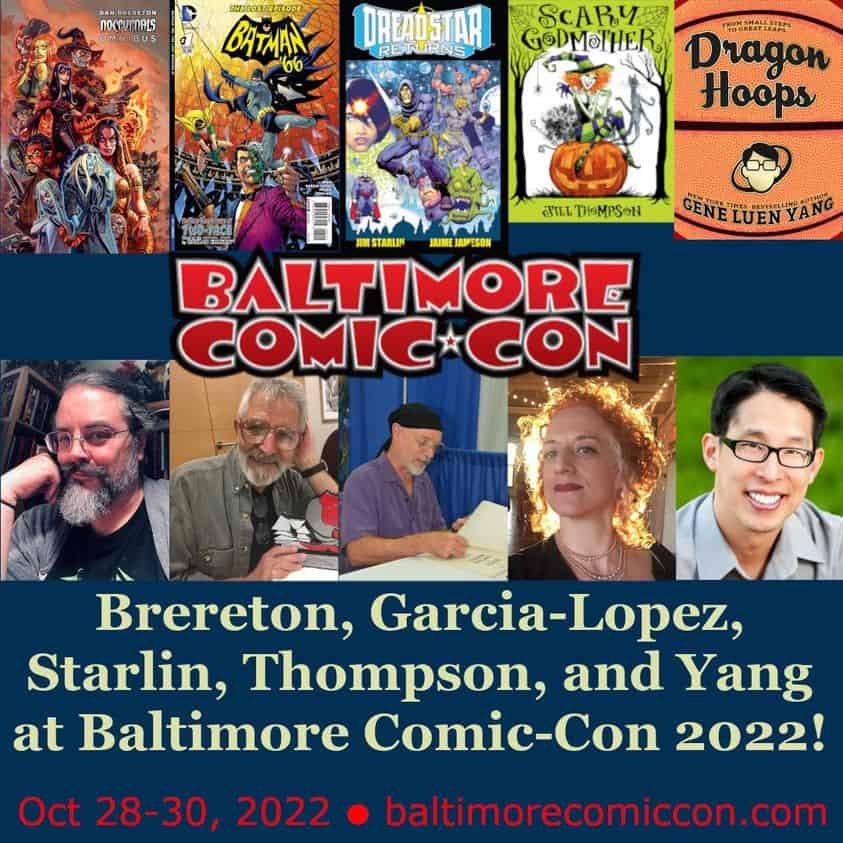 This year's Baltimore Comic-Con is going to be a big one! Join us on October 28-30, 2022 at the Inner Harbor's Baltimore Convention Center. The Baltimore Comic-Con is privileged to announce Dan Brereton, Jose Luis Garcia-Lopez, Jim Starlin, Jill Thompson, and Gene Luen Yang as guests of our 2020 event. Purchase tickets online now and avoid ticket counter lines!
Award-winning creator Dan Brereton has been in the comics game for over four decades, having written and illustrated for nearly every major comics publisher on a wide spectrum of characters and genres such as X-Men, Justice League, Batman, Thor, Red Sonja, Vampirella, the Simpsons, and many more. Past clients range from Walt Disney TV Animation, Hasbro Toys, CBS, and musicians like Rob Zombie. His best-known and loved creator-owned property is Nocturnals, with a new two-volume hardcover Omnibus out from Dark Horse Comics, and a new graphic novel currently in production. Dan is a regular Kickstarter creator. Find Dan and his work here : https://linktr.ee/B33Da
José Luis García-López was born in Spain and began drawing comics professionally in Argentina at age 13. In the 1960s, he drew romance titles for Charlton Comics. Garcia-Lopez came to the U.S. in 1974 and started working for DC Comics, drawing series such as Superman, Batman, Hawkman, Tarzan, and Jonah Hex. His other notable work includes Atari Force, Deadman, New Teen Titans, and On The Road to Perdition. Since 1982, Garcia-Lopez has designed and pencilled the definitive versions of Superman, Batman, Wonder Woman, and many other characters for various DC Comics style guides, which are created for licensees only. His style guide art has been seen on countless DC Comics licensed products and is still being used today.
The multi-talented Jim Starlin has worked on both writing and creating art for some of the most noteworthy creations since his entry into the field of comics in the 1970s. The mind behind the Marvel character Shang-Chi, Master of Kung Fu, he is also responsible for a number of noteworthy cosmic characters in the Marvel Universe, including Gamora, Drax the Destroyer, and the villainous Thanos, all of whom are featured in the major motion picture, Guardians of the Galaxy. He developed noteworthy runs on Marvel's Captain Marvel, Warlock, and Silver Surfer, Marvel mini-series Infinity Gauntlet, Infinity War, and Infinity Crusade, and DC Comics' Batman, The Weird, and Cosmic Odyssey. His Death of Captain Marvel was the first Marvel graphic novel to be published. More recently, he has provided writing and art for DC's Stormwatch and writing on Green Lantern: Mongul, and he returned to his classic villain with Marvel's Thanos: The Infinity Revelation.
Jill Thompson is a ten-time Eisner Award-winning comic book creator. She is best known for her creations The Scary Godmother and Magic Trixie, her award-winning graphic novel Wonder Woman: The True Amazon, as well as her collaborations with Neil Gaiman on The Sandman, Grant Morrison on The Invisibles, Will Pfeifer on Finals, Evan Dorkin on Beasts of Burden, Mick Foley on Tales From Wrescal Lane, and many more. Jill's comic work has been translated into many languages and she loves to travel around the world to appear at comic conventions and festivals to meet her wonderful fans! The Scary Godmother has been adapted to the stage as a play, and then to television for Cartoon Network! Jill is actively working to create more Scary Godmother in every form for everyone to enjoy!
Gene Luen Yang writes, and sometimes draws, comic books and graphic novels. As the Library of Congress' fifth National Ambassador for Young People's Literature, he advocates for the importance of reading, especially reading diversely. American Born Chinese, his first graphic novel from First Second Books, was a National Book Award finalist, as well as the winner of the Printz Award and an Eisner Award. His two-volume graphic novel Boxers & Saints won the L.A. Times Book Prize and was a National Book Award Finalist. His other works include Secret Coders (with Mike Holmes), The Shadow Hero (with Sonny Liew), Superman from DC Comics (with various artists), and the Avatar: The Last Airbender series from Dark Horse Comics (with Gurihiru). In 2016, he was named a MacArthur Foundation Fellow. His most recent books are Dragon Hoops from First Second Books and 2020 Ringo Spirit Award winner, Superman Smashes the Klan from DC Comics.
"What an absolute set of industry rock stars," said Marc Nathan, show promoter for the Baltimore Comic-Con. "We are featuring some of the biggest names in comics history, with credits on their resumes to die for and accolades galore. We are so proud to be able to bring these guests to this year's show for their fans to meet!"
Visit baltimorecomiccon.com/tickets for more information and to purchase your advanced tickets!
In the coming weeks, look for more announcements from the Baltimore Comic-Con. We are looking forward to highlighting our guests, the Ringo Awards, industry exclusives, and programming. The latest developments can always be found on our website, Twitter, Instagram, and Facebook pages.