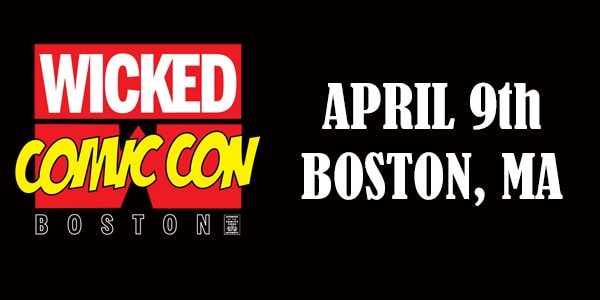 With sixty days to go till the first ever Wicked Comic Con, all vendor and artist alley tables have been claimed! Plus several new comic creators have joined the guestlist including:
Nate Bellegarde (Stealth, Nowhere Men)
Shawn Crystal (Deadpool, Batman: Arkham Manor) 
Glenn Fabry (Preacher, Hellblazer)
Robert Gill (X-Force, Old Man Star-Lord)
Larry Hama (GI Joe, Wolverine) 
Corin Howell (Dark Red, Shadow Service)
Rick Leonardi (Nightwing, Spider-Man 2099)
Soo Lee (Ash & Thorn, Fantomah)
Ron Marz (Silver Surfer, Green Lantern)
Joshua "Sway" Swaby (Devils Reign, Miles Morales: Spider-Man)
Trevor von Eeden (Black Lightning, Green Arrow)
Original art collectors will definitely want to swing by booths run by Albert Moy, Essential Sequential, Panel Page Art, Nostalgia Investments, Kwan Chang, and Will's Comic Art Page.
Join us at the Westin Boston Seaport District on Saturday, April 9th from 10am till 7pm. Created by the original founders of Boston Comic Con, this show will mark a return to an authentic indie comic convention that New England comic book fans deserve! Follow our website and social media to get all the latest updates. Tell your friends!
Tickets are available now at the link. Free admission for kids 12 and under.