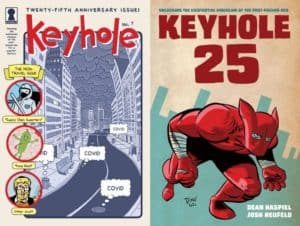 The Baltimore Comic-Con takes place October 22-24, 2021 at the Baltimore Convention Center in Baltimore's Inner Harbor. Tickets to the show are available for purchase now!
Longtime friends and cartoonists Dean Haspiel and Josh Neufeld will celebrate a quarter century of collaborations with a new issue of KEYHOLE COMICS at Baltimore Comic-Con. From minicomics to graphic novels, anthologies, and podcasts, Dean and Josh have been contrasting their sensibilities since their days drawing comics in the Music & Art High School lunchroom. Joining the disparate duo this year is PANDEMIX co-editor Whitney Matheson, who is debuting DIARY COMIX 2021, which excerpts highlights from her daily strip. Josh will also be debuting the 10th-anniversary edition of The Influencing Machine, his comics collaboration with journalist Brooke Gladstone. The New York Times bestseller has been updated for the (post-)Trump era and features a new afterword.
Emmy Award-winning cartoonist Dean Haspiel is best known for creating Billy Dogma and The Red Hook, collaborating with Harvey Pekar, and Jonathan Ames, and illustrating for HBO's Bored to Death. His published work includes writing and drawing for Marvel, DC, Archie, Image Comics, and Webtoon. In addition, Haspiel is an accomplished playwright and Yaddo fellow. He lives in Brooklyn, New York.
Josh Neufeld is a cartoonist known for his nonfiction narratives of political and social upheaval, told through the voices of witnesses. He is the writer/artist of the nonfiction graphic novels A.D.: New Orleans After the Deluge and A Few Perfect Hours. His other works include The Influencing Machine, The Vagabonds, Keyhole, and numerous nonfiction comics for various news outlets. Neufeld has been a Knight-Wallace Fellow in journalism, an Atlantic Center for the Arts Master Artist, and a Xeric Award winner. He lives in Brooklyn, New York, where he makes — and teaches — comics, including at the School of Visual Arts.
Whitney Matheson is a New York-based writer best known for creating Pop Candy, USA Today's award-winning pop-culture blog (1999-2014). She is the author of several children's books, including We Make Comics; and co-editor of the Ringo Award-nominated anthology PANDEMIX. Whitney's work has appeared in publications including Playboy, Slate, and The Hollywood Reporter, and she has appeared on VH1, BBC America, Turner Classic Movies, and other networks. Subscribe to Whitney's newsletter and read her diary comics at patreon.com/whitneymatheson.
Further information is available on the website: baltimorecomiccon.com