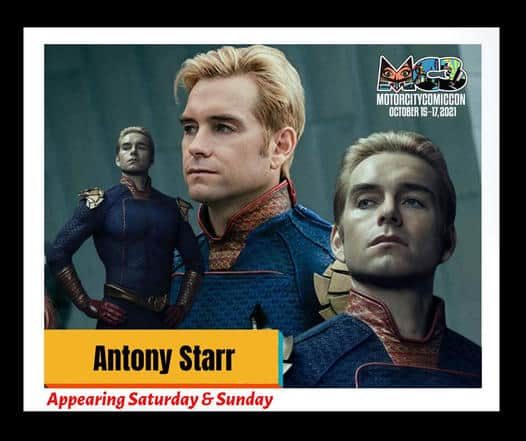 'The Boys' are back in town! Well at least of them is ANTONY STARR will appear October 16-17, 2021 at Motor City Comic Con! Antony is best known for his starring role as the superhero/villain Homelander in Amazon Prime's hit series The Boys. If you haven't seen it yet you still have time to binge it before the show! He will be available on Saturday, October 16th and Sunday, October 17th to sign autographs ($50) and professional photo ops by Pose Photos ($60).
Antony Starr is a New Zealand actor best known for his starring role in Amazon Prime Video's original series The Boys, which is based on the comic book series of the same name, playing the superhero Homelander. In his own country, he is best known for his dual role as twins Jethro and Van West in New Zealand's comedy/drama Outrageous Fortune and Billy Newwood in Without a Paddle. He was the series lead, Lucas Hood, in the four season run of Banshee.
Motor City Comic Con's annual event takes place every May and because of the health restrictions, the 2021 event was moved to October 15-17, 2021. The convention will return to being hosted annually in May, in 2022. Both events will take place at the Suburban Collection Showplace in Novi. The biggest and baddest weekend in Michigan will feature actors from the television, movie, and streaming industry, along with the most creative artists, writers, and comic book creators in the industry.
An added convenience feature this year for guests to avoid the long admission lines, will be RFID wristbands! RFID wristbands are available for purchase and mailed to homes for an additional $15 fee. Fans who purchase these RFID wristbands and have them mailed prior to the con will not have to wait in any lines before entering the convention and get a faster start to their Motor City Comic Con experience. This option allows guests to skip registration by simply putting on the wristband before entering the show.
Motor City Comic Con General Ticket prices and packages:
Adult Pricing (ages 13 and up)
Friday – $30*
Saturday – $40*
Sunday – $35*
VIP – $249*
Adult Weekend Pass – $85*
Kids 5 and under are free all weekend
Kids 6-12 are $10* on Friday and Saturday
Kids Weekend – $20*
Sunday is Kids Day – All kids 12 and under are free
*Additional processing fees will apply
The 2021 Motor City Comic Con will be held at the Suburban Collection Showplace which is located at 46100 Grand River Avenue in Novi, Michigan on Friday, October 15 (12:30 p.m. to 7
p.m.), Saturday, October 16 (10:30 a.m. to 7 p.m.) and Sunday, October 18 (10:30 a.m. to 5 p.m.). Future announcements of media guests, comic guests, exhibitors and events will be
announced and posted to MotorCityComicCon.com in the coming months.
Follow Motor City Comic Con on Facebook, Instagram, and Twitter for more details on upcoming new guests, programming, limited VIP packages, photo opportunities and more.