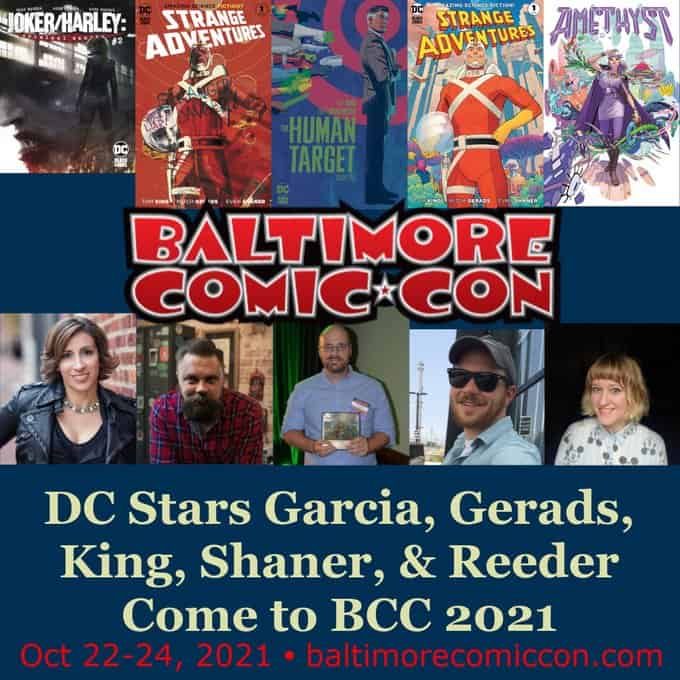 Don't miss the 22nd annual Baltimore Comic-Con on October 22-24, 2021 at the Inner Harbor's Baltimore Convention Center! The Baltimore Comic-Con will feature some of DC Comics' biggest stars in 2021, including Kami Garcia, Mitch Gerads, Tom King, Amy Reeder, and Doc Shaner. Get your tickets now!
Kami Garcia is a #1 New York Times, USA Today, and international bestselling author and comic book writer. As an award-winning, Bram Stoker Award-nominated young adult author of 12 novels and graphic novels, she has been published in 51 countries and 38 languages, and her books have sold more than 10 million copies worldwide. Kami's best known works include the Beautiful Creatures series, Teen Titans: Raven, The X-Files: Agent of Chaos, The Lovely Reckless, Broken Beautiful Hearts, and the DC Black Label comic Joker/Harley: Criminal Sanity. She is also a cofounder of the Kid Lit book festival YALLFest and co-organizer of #Creators4Comics. Follow her on Instagram and Twitter @kamigarcia.
Mitch Gerads is a multiple Eisner and Ringo award-winning illustrator who has made a career out of bringing humanity and realism to the superhuman and unreal. He is best known for his critically acclaimed work at DC Comics with writer Tom King on Mister Miracle, Strange Adventures, Batman, and The Sheriff of Babylon. He lives and draws in Phoenix, Arizona, with his wife, son, and cat.
Ringo and Eisner Award-winning Tom King is currently the writer of Batman/Catwoman at DC Comics, where he has also written Mister Miracle, Grayson, The Omega Men, DC Nation, Swamp Thing Winter Special, and has a story in Action Comics #1000, not to mention his award-winning work at Marvel on The Vision. King's first book, A Once Crowded Sky, a postmodern super hero novel, was recognized by USA Today as one of the best Graphic Novels of the year. He was named by the Hollywood Reporter as one of the five comic creators to watch in 2015.
Whether it's creating new characters or reinventing older ones, Amy Reeder is here to remind us that great characters are what keep us hooked on comics. From her cover work on Supergirl, Ironheart, and Hit-Girl, to interiors on Madame Xanadu and Batwoman, to designing and illustrating the high-flying Image series Rocket Girl, to co-creating Moon Girl of the all-ages Marvel hit Moon Girl and Devil Dinosaur, Amy has made it clear she's just gotten started. Amy combined art and writing in her highly anticipated Amethyst miniseries for DC Comics.
Doc Shaner is a DC Comics exclusive artist. His past works include Future Quest, The Terrifics, Man of Steel, Supergirl, and Doom Patrol among others. Doc is currently working on Strange Adventures with Tom King and Mitch Gerads.
"DC has been the big buzz lately," said Marc Nathan, show promoter for the Baltimore Comic-Con. "Certainly, with the hype around The Suicide Squad movie, their profile will only increase, and we're really honored to have these 5 talents with us this year. They bring great storytelling to the DC Universe, and their fans are going to love getting a chance to meet them at our show in October."
Further information is available on the convention website at the link: baltimorecomiccon.com