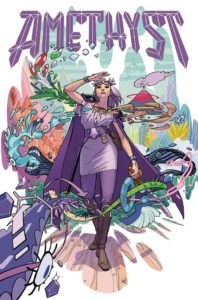 Press Release:
Don't miss the Baltimore Comic-Con's return to the Inner Harbor at the Baltimore Convention Center on October 23-25, 2020. We are proud to announce the addition of Amy Reeder, returning to the Baltimore Comic-Con! Tickets are available for purchase now!
Whether it's creating new characters or reinventing older ones, Amy Reeder is here to remind us that great characters are what keep us hooked on comics. From her cover work on Supergirl, Ironheart, and Hit-Girl, to interiors on Madame Xanadu and Batwoman, to designing and illustrating the high-flying Image series Rocket Girl, to co-creating Moon Girl of the all-ages Marvel hit Moon Girl and Devil Dinosaur, Amy has made it clear she's just gotten started. This year, Amy combines art and writing in her highly anticipated Amethyst miniseries for DC Comics.
"I can't wait to return to Baltimore Comic Con, where they somehow manage to be large in scale and intimate, all at once," said Reeder. "It's fans and creators at their best, bonding over what it is we all love about these funny books."
"It is great that Amy will be returning to the Baltimore Comic-Con this year and I'm really looking forward to Amethyst," said Marc Nathan, show promoter for the Baltimore Comic-Con. "She really has an eye-catching style that sells a book. If you're in your local comic shop looking down the rows of new comics, Amy's art captures your attention and makes you want to see more. Her fans are going to as thrilled as we are to see her this year!"
In the coming weeks, look for more announcements from the Baltimore Comic-Con. We are looking forward to highlighting our guests, the Ringo Awards, industry exclusives, and programming. The latest developments can always be found on our website, Twitter, Instagram, and Facebook pages.