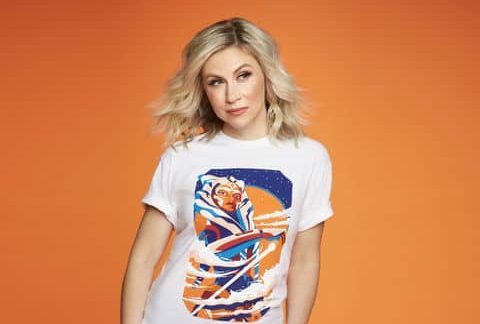 Ashley Eckstein appears at the Walt Disney Family Museum on Saturday, March 7, 2020 at 2 PM.
As a former Disney Channel sitcom actress, a current voice talent for Star Wars and Sofia the First projects, and now, as the designer behind a sci-fi/fantasy-inspired fashion company for women, Her Universe, Ashley Eckstein has made a name for herself across the Disney landscape in a unique way. Hear from Eckstein as she discusses the secrets to her success, what drove her to create Her Universe, and how she transitioned from acting to creating her own successful fashion line.
Visitors are welcome to attend our companion program, Her-Story: The Women of Pixar's Story Department at 11am.
About the Speaker
Ashley Eckstein has been widely recognized and honored as an actress, entrepreneur, author, and Fangirl trendsetter. Most known as the voice of Ahsoka Tano in Star Wars: The Clone Wars, Ashley also founded Her Universe in 2010 —the groundbreaking fangirl fashion and lifestyle brand. A leading authority on female fandom, Ashley has been featured on CNN, Forbes, Entertainment Weekly, The New York Times, Los Angeles Times, and the Wall Street Journal, among many others. She was a speaker at Fortune Magazine's Next Gen Most Powerful Women Summit, and was chosen by Good Housekeeping magazine as one of their "25 Awesome Women" and by CNET as one of their "Women Who Inspire." Ashley is married to former Major League Baseball player and 2006 World Series MVP, David Eckstein.
Ashley's book, It's Your Universe, You Have the Power to Make It Happen, is an inspirational guide on how to make your dreams come true. She shares her own life lessons as well as lessons from iconic Disney characters, as a road-map for how to dream it and do it.
Walt Disney Family Museum
104 Montgomery Street, San Francisco, CA 94129
415.345.6800