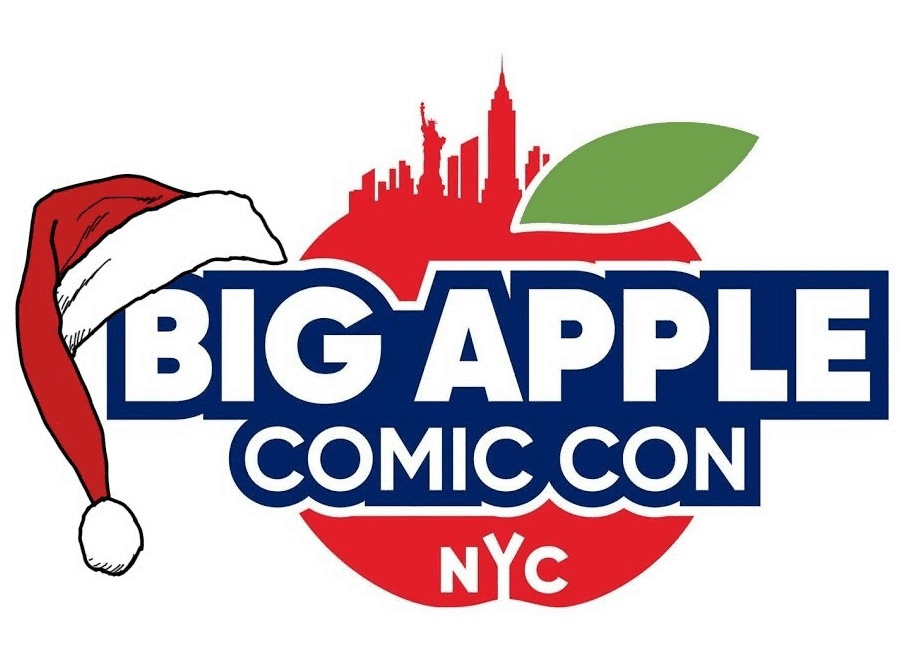 Press Release:
Big Apple Comic Con Releases Full Schedule of Events for This Weekend's Spectacular Big Apple Christmas Con Holiday Party
Special One-Day Event Features Celebrity Guests, Fabulous Prize Giveaways, Exhibitions, Holiday-Themed Cosplay Contest & Auction of Original Artwork by World Renowned Artists to Benefit Covenant House New York
Big Apple Christmas Con Takes Place Saturday, December 14 at the New Yorker Hotel
Big Apple Comic Convention, New York City's longest-running premier boutique comic books and popular culture show, revealed its program of events for the Big Apple Christmas Con holiday party this Saturday, December 14 at the New Yorker Hotel.
"This is the beginning of a new era for comics in New York!" says Big Apple Comic Con founder Michael Carbonaro.
This special one-day event will include everything the Big Apple Comic Con has become known for, as well as free gifts (with a focus on those under the age of 14), fabulous prize giveaways, an exhibition of Christmas-themed comic books, an auction of original comic artwork by some of the best-known artists in the world, with all proceeds to going to Covenant House New York (which provides residential services to homeless, runaway and exploited youth), a holiday-themed cosplay contest and an extra special appearance by the one and only Christmas super-hero: Santaman!
For those looking to slip away from the holiday hoopla, the Big Apple Christmas Con will offer fans an escape to another universe, while those looking to immerse themselves in the season can bask in special holiday-themed events and unique gift-shopping opportunities.
Big Apple Comic Con will feature appearances by dozens of artists, creators and independent publishers, and an Artist Alley filled with up-and-coming artists. Fans will also be able to participate in celebrity panels and programming with professionals from various fields.
Confirmed celebrity guests Michael Uslan (Joker, Batman film franchise), Sam J. Jones (Flash Gordon, The Spirit), Peter Scolari (Bosom Buddies, Gotham), Frank Romano (legendary Ben Cooper Costumes Art Director) and Cosplay Guest of Honor Barbie Chula will now be joined by additional Cosplay Guest of Honor NY Tony Stark. The convention will feature comic book creators Jim Steranko (S.H.I.E.L.D, Captain America), Joseph Michael Linsner (Cry For Dawn, Conan), Larry Hama (G.I. Joe, Avengers), Neal Adams (X-Men, Green Lantern/Green Arrow), Erica Schultz (Daredevil, M3), Mark Texeira (Black Panther, Wolverine), Kristen Gudsnuk (Henchgirl, Modern Fantasy), Billy Tucci (A Child is Born, Shi), Paul Levitz (The Visitor, Batman), Tom DeFalco (Spider-Man, Archie), Kristina Deak-Linsner (Dawn & Vampirella, Sin Boldly), Bob Rozakis ('Mazing Man, Joker's Daughter), Paul Kupperberg (Supergirl, Doom Patrol), Michael Jan Friedman (Star Trek: The Next Generation, Darkstars), Peter Kuper (The New Yorker, MAD Magazine), Russ Braun (The Boys, Batman), as well as recently announced guests Barbara Friedlander (Swing with Scooter), Danny Fingeroth (Spider-Man), Jim Salicrup (Avengers, The Uncanny X-Men), Sy Barry (The Phantom), Nancy Silberkleit (Archie), Cliff Galbraith (Rat Bastard). Additional guests include The Kubert School, Heidi MacDonald, Paris Cullins, Gary Cohn, Brian Kong, Zeea Adams, Bob Wiacek, Mike Diana, Steve Saffel, Steve Bunche, Zorikh Lequidre, Robert J. Sodaro, and Dan Fogel, with more to be announced.
Exhibitors will be selling original comic artwork and some of the most sought-after collectible comic books in history, and attendees can fulfill their holiday shopping lists with goodies from all aspects of pop culture including: science fiction, fantasy, film, television, cosplay, animation, anime, manga, toys, horror, collectible card games, video games, web comics, and fantasy and graphic novels.
The full schedule of events is as follows:
11 a.m. – Captain Marvel Culture
Moderator: Captain Zorikh
Big Apple Con's Mightiest Mortal Captain Zorikh speaks truth (and what's false) about all the heroes named Captain Marvel.
11:40 a.m. – Investing in Comics/Frank Romano Spotlight
Moderator: Mike Carbonaro
Founder Mike Carbo and Price Guide authors Dan Fogel & Robert J. Sodaro on how to buy & sell. Special appearance by Ben Cooper Costumes Art Director Frank Romano!
12:20 p.m. – Michael Uslan: The Boy Who Loved Batman
Moderator: Michael Uslan
Michael Uslan, Originator/Executive Producer of the Batman film franchise and much more, enlightens us on the past, present and future of the Dark Knight and the Joker.
1:20 p.m. – NYC-Comics Connection
Moderator: Paul Levitz
NYC's Coolest Creators on the special bond between the City and Comic Books. Paul Levitz is joined by Michael Uslan, Tom DeFalco, Steve Saffel, Steve Bunche, & Peter Kuper.
2:20 p.m. – Visiting with Paul Levitz
Moderator: Heidi MacDonald
The Beat's Heidi MacDonald celebrates the Super Career of DC's Paul Levitz & previews his Valiant series The Visitor.
3 p.m. – Big Apple Writers' Round Table
Moderator: Erica Schultz
Writer Without Fear Erica Schultz grills her peers Larry Hama, Michael Jan Friedman, Paul Kupperberg, & Bob Rozakis on Comics Word Craft.
3:40 p.m. – (Flash) Gordon's Alive!
Moderator: Heidi MacDonald
Sci-Fi Superhero Sam J. Jones tells Heidi MacDonald all about his epic films Flash Gordon, Ted, Ted 2, and his new documentary Life After Flash.
4:30 p.m. – Covenant House Benefit Art Auction
Moderator: BACC Staff
Big Apple Comic Con & Covenant House New York's Manny Rios conduct a Special Benefit Auction for homeless youth. Art & cool swag donated by our awesome guests and vendors!
5 p.m. – Big Apple Comic Con Holiday Party
Moderator: BACC Staff
Join us in a Festive Holiday Party with: Gifts! A Sing-Along! And a Special Appearance of Santaman, Big Apple Con's own Season's Superhero!
5:20 p.m. – Costume Contest Sign-Up
Moderator: Captain Zorikh
Final Registration for the Event called "The Most Fun Costume Contest on the East Coast"!
5:30 p.m. – Big Apple Comic Con Holiday Costume Contest
Moderator: Captain Zorikh
Judges Barbie Chula & Bronx Spidey pick the best, most fun Holiday/Comics/Fantasy/SF Cosplay. Captain Zorikh hosts with Special Guest NY Tony Stark. Prizes & Fun!
All day long, guests can become a super hero with free caricatures by Daniel Perez, have their faces painted by Bianca: A Princess Like Me, and enjoy the comedy stylings of Retired Wonder Woman and holiday and superhero music from DJ Jason Martin in the Grand Ballroom.
The New Yorker Hotel, an Art Deco masterpiece built in 1929 and recently renovated to its suggestively stylized splendor, will play host to future Big Apple Comic Cons, including the group's annual two-day Spring extravaganza. Big Apple Comic Con is a convention with a truly unique NYC feel and a dedicated base of attendees from its 23-year history. The move to the New Yorker allows the established Big Apple Comic Con community to open its arms to even more attendees.
The New Yorker Hotel is located at 481 8th Avenue, New York, NY. Big Apple Comic Con runs from 10 a.m. – 7 p.m. with VIP Early Admission at 9 a.m. on Saturday, December 14, 2019. Tickets are available at https://big-apple-comic-con.ticketleap.com/bacc-pop-culture-christmas/.
Big Apple Comic Con online:
www.bigapplecc.com
www.facebook.com/bigappleconvention
www.twitter.com/bigapplecomicon
www.instagram.com/bigapplecon