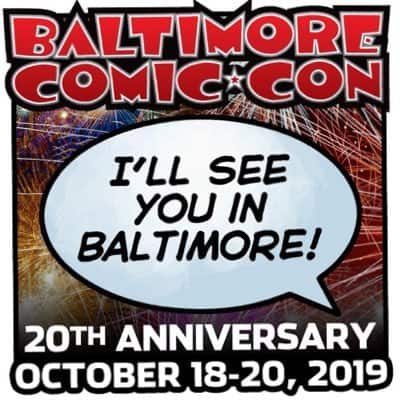 Press Release:
Celebrate the 20th annual Baltimore Comic-Con the weekend of October 18-20, 2019 at the Inner Harbor's Baltimore Convention Center. The Baltimore Comic-Con brings the Bs and Cs with the additions of Jeremy Bastian, Josh Blaylock, Mark Buckingham, Buzz, Jim Calafiore, and Richard Case to the 2019 event. Get your tickets now at the Baltimore Comic-Con website.
Jeremy Bastian is the creator and illustrator of Cursed Pirate Girl from BOOM! Studios and Archaia Comics. He is renowned for his delicate detail, whimsical characters, and strange creatures, all drawn at the actual print size with a very small brush! Cursed Pirate Girl beckons to the 19th century in both subject and style. He has also contributed to Guild: Tink from Dark Horse Comics, Mouse Guard: Legends of the Guard from BOOM! Studios/Archaia Comics, Little Nemo: Dream Another Dream from Locust Moon Press, and Under the Moons of Mars: New Adventures on Barsoom from Simon and Schuster. His Cursed Pirate Girl Annual was released by BOOM! Studios.
Josh Blaylock is a comic book creator from Chicago (and at one time, Cincinnati) and founder/publisher of Devil's Due Comics. This year has seen Josh appearing across the globe in major news coverage for the political anthologies AOC and the Freshman Force: New Party, Who Dis, and Talk Bernie to Me. His work includes the supernatural action series Mercy Sparx (now in development for film), historical Armenian genocide thriller Operation Nemesis, The Bitcoin Comic Handbook – a guide to cryptocurrency, and How to Self-Publish Comics: Not Just Create Them – now required reading at Savannah College of Art and Design. 2020 sees the release of his newest original series ArkWorld. Devil's Due Comics, Blaylock's creator-owned publishing line of original properties, centers on supernatural action, horror, dark comedy, and sci-fi fringe. Also known for the legendary reboots of G.I. Joe, Voltron, and Micronauts in the early '00s, and for hundreds of other comics including Hack/Slash, Family Guy, and Child's Play, most recently, the company received global attention for its foray into political anthology comics with the launch of Alexandria Ocasio Cortez and the Freshman Force, arguably the most talked about comic book on the planet in national media throughout the spring. The publisher was instrumental in influencing the comic book and pop culture industries as far back as 1998 with the first national 1980s retro streetwear line of its kind, Old Skool.
Mark Buckingham, who is best-known and most-celebrated for his work on the long-running Vertigo title Fables, began his career in 1990 working with Neil Gaiman on Miracleman from Eclipse Comics. Working on such titles as 2000 AD, Hellblazer, and Shade, the Changing Man, he became a mainstay at DC Comics after taking over art duties on Fables with issue #6. His run on the popular imprint title has earned him four Eisner Awards, including Best New Series in 2003, Best Serialized Story in 2005 and 2006, and Best Artist/Penciler/Inker in 2007.
Buzz is a comic book artist known for his work on JSA, Atomika, Vampirella, Luna, X-Factor, Impulse, and many more. A very popular and sought-after commission artist among the art collectors and the comic-book convention circuit, Buzz is also a multi-Emmy award-winning commercial artist who has worked with CBS, Fox, Los Angeles Lakers, and The United States Marine Corp. Buzz is currently working with comic art legend Neal Adams on several special projects for DC Comics and more.
In 30 years working in comics, Jim Calafiore has spent extended time at Valiant, DC, and Marvel, notably on Peter David's Aquaman, Judd Winnick's Exiles, Gotham Underground with Frank Tieri, Red Lanterns with Charles Soule, various Batman books, Deadpool, and Black Panther. After a run on the critically-acclaimed Secret Six with Gail Simone, they reunited with for their creator-owned Kickstarter success Leaving Megalopolis, and volume 2 of the saga, Surviving Megalopolis. Volume 3 is in the works.
Richard Case has been drawing comics professionally for quite some time. In addition to illustrating Grant Morrison's run on Doom Patrol, he has contributed to titles like Dr. Strange, Sandman, Shade the Changing Man, Sensational Spider-Man, and Batman '66. Most recently, he worked with Peter Milligan on a modern-day adaptation of Edgar Allan Poe's Fall of the House of Usher, wherein the House in question is the White House…
"These 'Bs and Cs' are all A-gamers," said Marc Nathan, show promoter for the Baltimore Comic-Con. "They are all respected artists who have had a major impact on all corners of the industry. From fantastical to the political, their influence is unmistakable. Their fans won't want to miss them!"
Visit www.baltimorecomiccon.com/tickets for more information and to purchase your advanced tickets!
In the coming weeks, look for more announcements from the Baltimore Comic-Con. We are looking forward to highlighting our guests, the Ringo Awards, industry exclusives, and programming. The latest developments can always be found on our website, Twitter, Instagram, and Facebook pages.