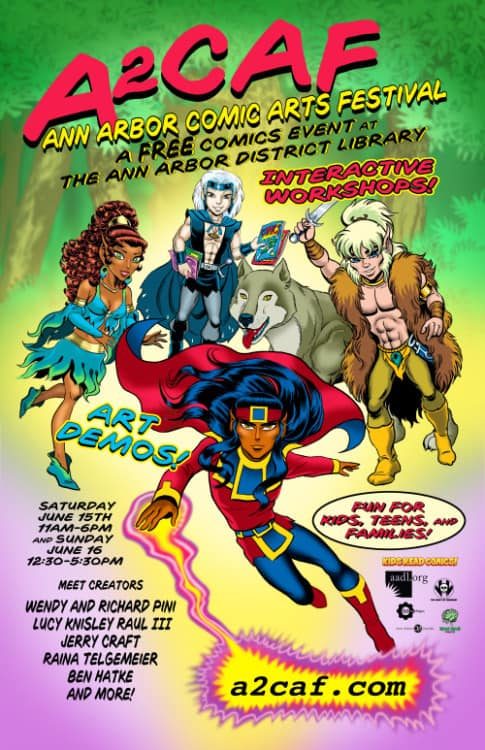 Press Release:
The Ann Arbor Comic Arts Festival (A2CAF) is a celebration of comics, graphic novels, and the people who love them. AADL hosts the 10th annual comics festival (formerly known as Kids Read Comics!) The Ann Arbor Comic Arts Festival (A2CAF) will feature over 50 of your favorite artists and authors including Jerry Kraft, Lucy Knisley, Raul the Third,  Wendy and Richard Pini, Raina Telgemeier, Judd Winick, Joamette Gil,  and more!
Kids, teens, and adults can participate in over 25 awesome cartooning workshops and creative games. Kids can also vote in the seventh annual Kids' Comics Awards, the only comics awards chosen by kids. The winners will be announced during a ceremony on Sunday afternoon featuring puppets, supervillains, and more!
10th Anniversary of A2CAF Exhibit – Sunday June 2, 2019 to Friday August 30, 2019
All summer, view the 10th Anniversary of A2CAF exhibit, featuring the A2CAF Free Comic Book Day publication's 15 contributing artists. The 10th Anniversary of A2CAF includes artwork by nationally bestselling graphic novelists, Michigan and Midwestern comics creators, and local cartooning students!
A2 Inkubate – Friday June 14, 2019 – 9:30 AM
Join us for Inkubate, a special A2CAF  pre-conference for librarians, educators, cartoonists, and anyone who loves comics!
Saturday, June 15th Schedule of Events
All events take place at the following locations:
Ann Arbor District Library: Main Branch – 343 S. Fifth Ave
Robot Supply & Repair – 115 East Liberty Street
Ann Arbor Art Center – 117 West Liberty Street
Vault of Midnight – 219 S. Main Street
11:00 am – 12:00 pm
A2CAF Kickoff & Iron Cartoonist (Library: Multi-Purpose Rm)
12:00 – 12:30 pm
Quick Draw with Becca Hillburn  (Library: 1st Floor Lobby)
Quick Draw with Bruno Hohn and James Anderson (Ann Arbor Art Center)
Quick Draw with Madeline Zuluaga and Giselle Sarmiento (Robot Supply & Repair)
12:00 – 1:00 pm
Signing – Jerry Craft and Raúl the Third (Library: 1st Floor Lobby)
12:00 – 1:30 pm
Signing – Raina Telgemeier (Vault of Midnight)
12:00 – 4:00 pm 
Face Painting (Library: Youth Story Corner)
12:30 – 1:30 pm
Coloring Comics Digitally (Ann Arbor Art Center)
You Got Your Science in my Comics! (Robot Supply & Repair)
1:00 – 2:00 pm
The Shake Ups: Cartoon Adventure Hour Concert, featuring 50 Years of Scooby Doo! (Library: Multi-Purpose Rm)
Sing a Song, Draw Along (Ann Arbor Art Center)
Author Spotlight: Lucy Knisley (Library: 4th Floor Meeting Room)
Signing – Wendy and Richard Pini (Library: 1st Floor Lobby)
1:00 – 3:00 pm
Craft Your Way to Cosplay (Library: Secret Lab)
2:00 – 2:30 pm
Quick Draw with Ruth McNally Barshaw and Chloe Cordero (Library: 1st Floor Lobby)
Quick Draw with Himashi Hewagama and Tara Kurtzhals (Robot Supply & Repair)
2:00 – 3:00 pm 
Signing – Lucy Knisley (Library – 1st Floor Lobby)
2:30 – 3:30 pm
12 Rules to Making Up a Story, with Judd Winick (Robot Supply & Repair)
3:00 – 4:00 pm
Make a Mini-Comic, with Jerzy Drozd (Ann Arbor Art Center)
Author Spotlight: Jerry Craft (Library: Multi-Purpose Rm)
Portfolio Review with Gina Gagliano, Publishing Director at Random House Graphic (Library: 1st Floor Lobby)
3:30 – 4:30 pm
Author Spotlight: Wendy and Richard Pini (Ann Arbor Art Center)
3:45 – 4:45 pm
Signing – Judd Winick (Vault of Midnight)
4:00 – 5:00 pm
Signing – Jerry Craft (Library: 1st Floor Lobby)
4:45 – 5:45 pm
Signing – Wendy and Richard Pini (Vault of Midnight)
Sunday, June 16th Schedule of Events
12:30 – 1:00 pm
Quick Draw with Ruth McNally Barshaw and Dana Atnip (Library: 1st Floor)
Quick Draw with Himashi Hewagama and Aaron Polk (Ann Arbor Art Center)
Quick Draw with James Anderson and Bruno Hohn (Vault of Midnight)
12:30 – 1:30 pm
Author Discussion: Raina Telgemeier and Jerry Craft (Library: 4th Floor Meeting Rm)
Let's Draw Together (Ann Arbor Art Center)
Signing – Wendy and Richard Pini (Library: 1st Floor Lobby)
Signing – Lucy Knisley and Raúl the Third (Vault of Midnight)
1:30 – 2:30 pm
Signing – Jerry Craft (Library: 1st Floor Lobby)
2:30 – 3:30 pm
Kids' Comics Awards (Library: Multi-Purpose Rm)
3:30 – 4:00pm
Quick Draw with Madeline Zuluaga and Giselle Sarmiento (Vault of Midnight)
4:00 – 5:00 pm
Signing – Raina Telgemeier (Library: 1st Floor Lobby)
Signing – Ben Hatke (Vault of Midnight)