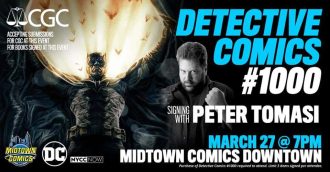 Writer Peter Tomasi appears at Midtown Comics Downtown on Wednesday, March 27th at 7 PM to celebrate the release of Detective Comics #1000! This is an open signing and we recommend showing up early, just to be safe. Purchase of Detective Comics #1000 required. Limit 3 items signed per attendee.  
After 80 years, DC Comics is proud to present the 1,000th issue of Detective Comics, the title that literally defines DC! An unbelievable lineup of talent teams up for this super-sized 96-page issue celebrating the legacy of Batman. Travelling through Gotham's past, present, and future is no easy task, but the top talents are here to rise to the occasion! Featuring Scott Snyder, Tom King, Peter Tomasi, Jim Lee, Denny O'Neil, Neal Adams, James Tynion IV, Doug Mahnke, Paul Dini, Dustin Nguyen, and many more! Plus, don't miss out on the first appearance of the deadly Arkham Knight! Who is under the mask and why do they want Batman dead? The mystery unfolds in Detective Comics #1000!
There will be a CGC representative to grade books signed at this event. Any previously signed books are not eligible for this service.
Cost of CGC is $25.00 + CGC grading fee (This does not include the cost of purchasing the books)
CGC books will be shipped to CGC offices for grading and will take 17-35 days for them to return, in the CGC protective slab. This is determined based on which options are chosen for CGC grading and shipping.
Midtown Comics Downtown
64 Fulton Street, New York, New York 10038
(212) 302-8192