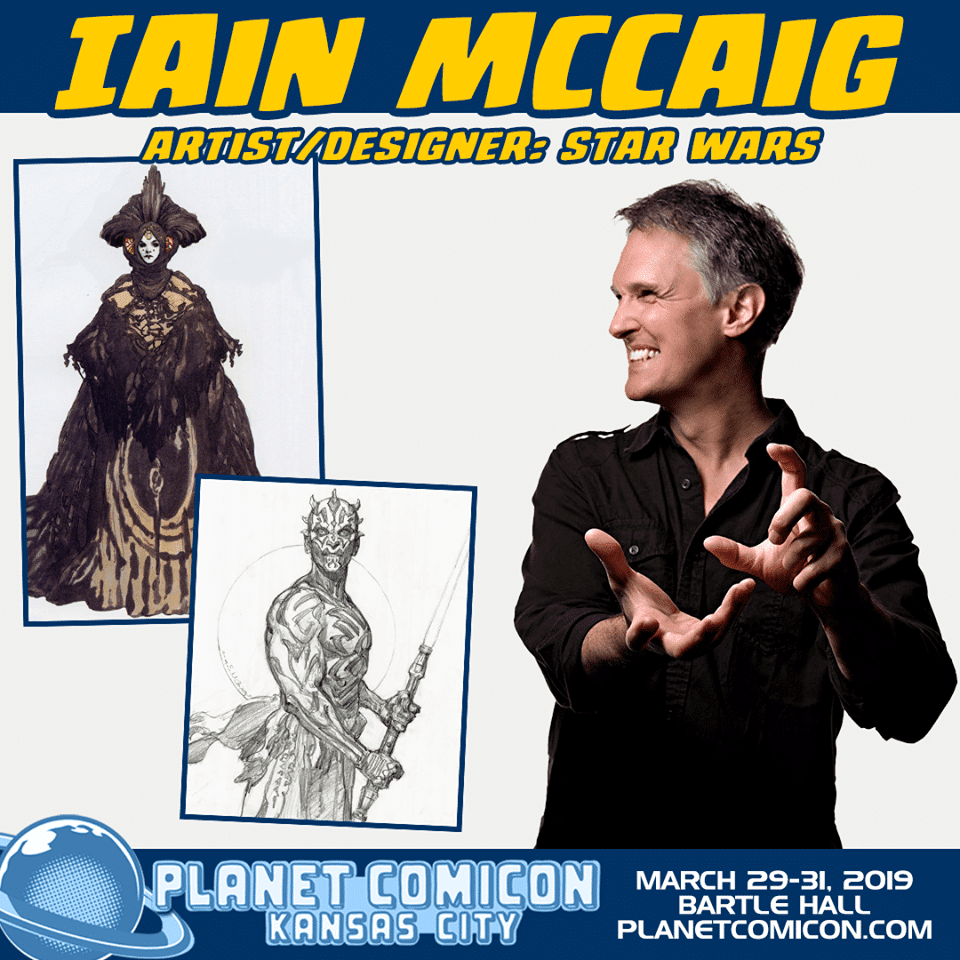 Press Release:
Planet Comicon Kansas City is excited to welcome Iain McCaig to our 20th anniversary event. Iain is an award winning motion picture artist with notable involvement in Star Wars Episodes I, II, III and VII, Terminator II, Dracula, Peter Pan, and Harry Potter.
Iain's energies are given to his love of storytelling in print and in film. Attending school in Glasgow, he came back to the US and worked on the trailer for Twice Upon a Time, before deciding that 2000 book covers would be better than twenty minutes of screen time for the same number of drawings. A noted illustrator/cover artist as well as film designer and director in his own right, his career and projects have had him travelling the globe, and keep him in demand for appearances as much as for work. A popular teacher, his enthusiasm for his art and his approachability and ease with audiences has left a wake of enthused and eager fans wherever he goes. His film directing debut, The Face, has won four awards.
SPECIAL RATES: We're offering a very special discount offer to all teachers, librarians, active duty military and first responders (fire, police, EMTs): 10% OFF ALL PLANETCOMICON PASSES AND MEMBERSHIPS! For additional info, visit our online ticket page and click on "Discounted Membership" beneath "Event Information" on the left side of the page.
Celebrity Guests
Dean Cain (Lois & Clark: The New Adventures of Superman) – Fri./Sat. only
Tom Welling (Smallville, Lucifer)
Michael Rosenbaum (Smallville, Guardians of the Galaxy Vol. 2) – Sat./Sun. only
James and Oliver Phelps (Harry Potter Series)
Bonnie Wright (Harry Potter Series)
Tara Strong (Teen Titans Go!, Powerpuff Girls)
John Wesley Shipp (The Flash)
Cary Elwes (The Princess Bride, Stranger Things)
Chris Sarandon (The Princess Bride, The Nightmare Before Christmas)
Creator Guests
Kevin Eastman (Teenage Mutant Ninja Turtles)
Doug Mahnke (Detective Comics, Superman, Justice League)
Jason Aaron (Star Wars, Thor)
Chris Claremont (Uncanny X-Men)
Amanda Conner (Harley Quinn, Justice League of America)
Jimmy Palmiotti (Harley Quinn, Painkiller Jane)
CW Cooke (Solitary, Stillwater)
Phil Hester (Batman Beyond, Shipwreck)
Megan Levens (Buffy the Vampire Slayer, Star Trek)
Ant Lucia (DC Bombshells)
Ande Parks (Batman Beyond, Daredevil, Ant-Man)
Cosplayer Guests
Kamui Cosplay (Internationally acclaimed costume designer and author) – Sat./Sun. only
For more information about the 2019 show, event photos, interviews and more, "Like" Planet Comicon on Facebook and follow @PlanetComicon on Twitter. Planet Comicon Kansas City is always available online at www.planetcomicon.com.