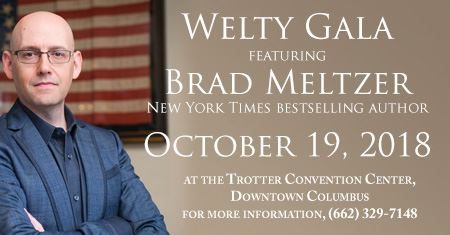 Author Brad Meltzer appears at the Trotter Convention Center on Friday, October 19, 2018 at 7 PM for the 2018 Welty Gala, an annual fundraiser for the MUW Scholarship Fund.
Black tie optional
Brad Meltzer is the #1 New York Times bestselling author of The Inner Circle, The Book of Fate, and nine other bestselling thrillers including The Tenth Justice, The First Counsel, The Millionaires, and The President's Shadow. His newest book, The Escape Artist, also debuted at number one.
In addition to his fiction, Brad is one of the only authors to ever have books on the bestseller list for Non-Fiction (History Decoded), Advice (Heroes for My Son and Heroes for My Daughter), Children's Books (I Am Amelia Earhart and I Am Abraham Lincoln) and even comic books (Justice League of America), for which he won the prestigious Eisner Award.
He is also the host of Brad Meltzer's Lost History on H2 and Brad Meltzer's Decoded on the History Channel. The Hollywood Reporter recently put him on their list of Hollywood's 25 Most Powerful Authors.
Brad is also responsible for helping find the missing 9/11 flag that the firefighters raised at Ground Zero, making national news on the 15th anniversary of 9/11.
To ensure the success of this event, MUW is seeking supporters who will participate as Benefactors, Patrons, and Friends. We are especially grateful and appreciative of your support for this event and the opportunity it provides to the community and our Ina E. Gordy Honors College students to further their academic experience beyond the classroom.
Trotter Convention Center
123 5th Street North, Columbus, MS 39703
(662) 328-4164