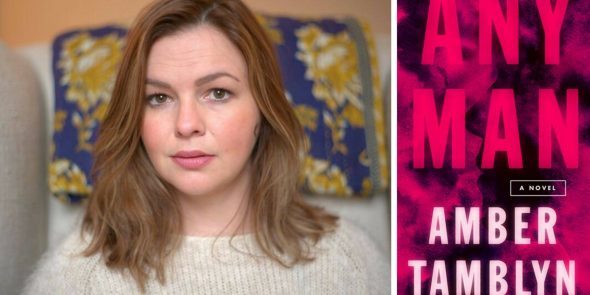 Author, director, actor, and #MeToo movement pioneer Amber Tamblyn appears at Creative Alliance on Wednesday, August 1st at 7:00 PM for reading and signing of ANY MAN.
Lidia Yuknavitch. Roxane Gay. Carmen Maria Machado. Amelia Gray. Han Kang. By turning women's bodies into a place of resistance, these pioneering feminist authors are rewriting how we understand trauma. Their influence can be found in Amber Tamblyn's searing debut novel, ANY MAN– a groundbreaking work that challenges our understanding of rape culture and the experience of trauma, while also searching for hope – and a space for victims to be heard – in the darkest of places.
ANY MAN follows six men: an English teacher, an unsuccessful standup comedian, a bi-racial web designer; a high school student, an alt-right media personality, and a transgender man. While one man's experience launches him into the spotlight as an unlikely activist and voice for justice, another's trauma is told through every voice but his own, a damning commentary on how we abuse and erase the stories and experiences of survivors.
In ANY MAN, the serial rapes act as a mirror, reflecting prejudices from the media and society back towards each victim as they grapple with guilt, shame, fear, PTSD, anger, and confusion about their attack. Journalists and people on social media hound and harass the victims, some going so far as to question whether it is even physically possible for a woman to rape a man.
Soon the culture feels equally as complicit and violent as the actual predator herself. The power of this novel comes from the victims' resistance of the narrative thrust upon them, refusing to be plot devices, but actual agents of action, central, and ever-present as they summon the strength and courage to speak out.
After writing a widely shared and lauded opinion piece for The New York Times, "I'm Done with Not Being Believed," Amber Tamblyn has emerged as an important voice, writing about sexual assault and abuses of power. Now, the Emmy- and Golden Globe-nominated actress, director, and poet uses the novel form to explore a provocative and haunting story of a violent serial predator who, in the form of a woman, is the personification of a culture responsible for re-traumatizing, disbelieving, and silencing the stories and voices of her victims.
Equally disturbing and lyrical, empathetic and sardonic, this novel is a riveting, suspenseful read—part crime thriller, part cultural commentary, part poetic prose. ANY MAN is a remarkable examination of the darkest parts of our culture: what we see and what we don't see, how we act and how we don't act, and what we will and will not tolerate. It is a timely, necessary, and strikingly original work that challenges us all to do better and celebrates the transformative power of language when the stories of victims are at long last heard.
About the Author
Amber Tamblyn, author of the critically acclaimed poetry collection Dark Sparkler, has been nominated for Emmy, Golden Globe, and Independent Spirit awards. She has published two additional books of poetry, Free Stallion (2005), which won the Borders Book Choice Award for Breakout Writing, and Bang Ditto (2009), an IndieNext bestseller. Tamblyn reviews books of poetry for Bust Magazine, is poet in residence at Amy Poehler's Smart Girls and is a contributing writer for The New York Times. Her work has appeared in Glamour, Teen Vogue, the San Francisco Chronicle, the Iowa Review Poets & Writers, PANK, and elsewhere. She lives in Brooklyn with her husband and daughter.
Creative Alliance
3134 Eastern Ave, Baltimore, MD 21224
(410) 276-1651