Press Release: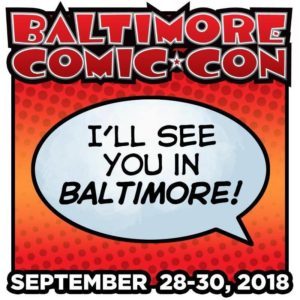 The Baltimore Comic-Con is pleased to announce the return of a number of guests to our show in 2018: Pat Broderick, Vito Delsante, Jim Rugg, and Dan Slott. Baltimore's Inner Sees the return of the Baltimore Comic-Con on September 28-30, 2018 at the Baltimore Convention Center. Purchase your tickets to the show now to avoid additional lines at the show.
Pat Broderick began his comics career in the 1970s after presenting his portfolio for the DC Comics Junior Bullpen Program. Initially drawing filler pages and short stories for 100-Page Super Spectaculars, he went on to work on a variety of DC and Marvel titles. He transitioned briefly to working at Atlas Comics before returning to Marvel and spending time on their black-and-white magazine titles, Captain Marvel, and a run on Micronauts. Returning to DC, Broderick's work could be found on titles such as Justice League of America, The Fury of Firestorm, Detective Comics, Captain Atom, Swamp Thing, and Green Lantern. He again returned to Marvel in the early 1990s to work on books like Alpha Flight and Doom 2099. In the mid-90s, Broderick took a break from comics, working for an advertising firm and providing design work on the movie Jimmy Neutron: Boy Genius, but eventually returned to comics, pencilling issues of Micronauts once again, this time for Devil's Due Publishing.
Vito Delsante is a comic book writer/graphic novelist. He's written for DC Comics, Marvel Comics, Image Comics, AdHouse Books, and Simon & Schuster, among others and his stories have been reprinted in other countries. His creator-owned superhero story, Stray, was published by Action Lab Entertainment, where he also wrote Action Lab: Dog of Wonder, Actionverse, Militeddy, and Midnight Tiger Stronger.
Jim Rugg makes comics, books, drawings, illustrations, and designs. His books and comics include Street Angel, Afrodisiac, the PLAIN Janes, Rambo 3.5, Notebook Drawings, and Supermag. He has exhibited drawings at iam8bit, Gallery1988, Mondo, and the Society of Illustrators. Honors include Eisner and Ignatz Awards, The Pittsburgh Foundation's Investing in Professional Artists grant, and AIGA's 50 Books/50 Covers selection for best-designed books. He teaches classes in the MFA Visual Narrative program at the School of Visual Arts and co-hosted BoingBoing.net's Tell Me Something I Don't Know podcast. His latest books are Street Angel's Dog and Street Angel Goes to Juvie from Image Comics. Street Angel vs. Ninjatech debuts in November and the PLAIN Janes will be out in 2019!
Dan Slott's early comic work included many kid-friendly titles, including Mighty Mouse and Ren and Stimpy at Marvel and Scooby Doo, Power Puff Girls, Looney Tunes, Batman Adventures, and Justice League Adventures at DC Comics. With the beginnings of success under his belt, he was able to work on more serious titles at DC, including Arkham Asylum: Living Hell and JLA: Classified. Returning to Marvel, Slott helped launch the standalone She-Hulk series, as well as mini-series Spider-Man/Human Torch and GLA: Misassembled. His extensive run on Amazing Spider-Man was controversial, award-winning, and a sales success. He was the successor to Brian Michael Bendis on The Mighty Avengers, penned The Silver Surfer with Mike Allred (which won an Eisner Award for Best Single Issue of the Year), and authored Avengers: The Initiative, following the events of Civil War. He has since gone on to write Tony Stark: Iron Man and Fantastic Four for Marvel.
"It's always great to welcome past guests back to the show," said Marc Nathan, show promoter for the Baltimore Comic-Con. "We haven't seen some of these folks in 10 years, so it's great to have them back in the hall. They've all done such great work, and their fans are undoubtedly going to be excited to see them at the show this year."
The Baltimore Comic-Con is celebrating its 19th year of bringing the comic book industry to the mid-Atlantic area on September 28-30, 2018 at the Baltimore Convention Center in the Inner Harbor. For more information, please visit www.baltimorecomiccon.com.