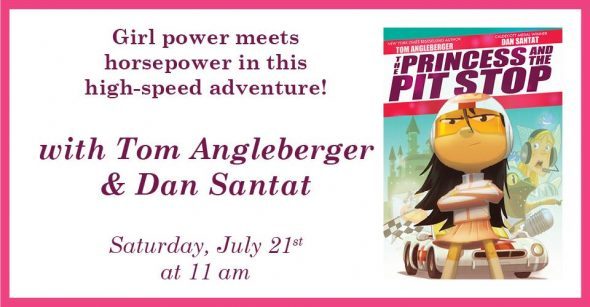 Author Tom Angleberger and illustrator Dan Santat appear at Once Upon a Time Bookstore on Saturday, July 21st from 11:00 AM till noon to present and sign their new book  THE PRINCESS AND THE PIT STOP!
A plucky Princess races against a gaggle of fairy-tale and nursery greats in The Princess and the Pit Stop, an epic car race of a book.
Too bad Princess is in last place with one lap to go. She'll have to catch the Gingerbread Man, lose Little Bo Peep and her Sheep, blow the doors off the Big Bad Wolf, and much more. Her Fairy Godmother tells her to just give up. Instead, this Princess hits the gas!
This turbo-charged read-aloud puts a princess—not up in a tower or awaiting a kiss—but at the center of the thrilling action, and gives each of her opponents a silly, perfect comeuppance.
About the Author: Tom Angleberger is a beloved children's book author best known for his bestselling Origami Yoda series, also published by Abrams. He is also the author of the Qwikpick Papers series, the Inspector Flytrap series, Fuzzy, McToad Mows Tiny Island, and many other books for children. You can learn more about him at origamiyoda.com.
About the Illustrator: Dan Santat is a critically acclaimed author-illustrator best known for his Caldecott-winning picture book The Adventures of Beekle: The Unimaginary Friend. Find out more at dantat.com.
Once Upon a Time Bookstore
Montrose Shopping Park
2207 Honolulu Ave, Montrose, CA 91020
818-248-9668