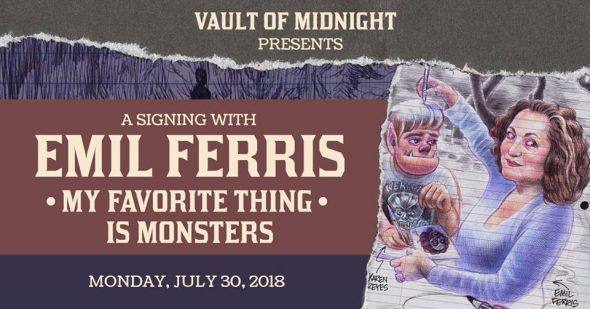 THIS EVENT HAS BEEN POSTPONED TO A LATER DATE.
Press Release:
Vault of Midnight is thrilled to announce that Emil Ferris will be visiting Vault Ann Arbor to meet fans and sign copies of My Favorite Thing is Monsters. Ferris will be signing in the Ann Arbor Location on Monday, July 30th from 7:00 pm – 9:00 pm.
My Favorite Thing is Monsters is the most impressive debut graphic novel we've ever read. And the comic book world agrees: after six years and 16 hours a day of work to complete, Ferris earned two Ignatz awards for Outstanding Graphic Novel and Outstanding Artist as well as 5 Eisner award nominations.
Karen Reyes is ten years old, growing up in 1960s Chicago. When her neighbor in the upstairs apartment is murdered, she takes it upon herself to follow the lead of the detectives she reads about in comic books and has seen on TV to find the culprit. At once a look at adolescence, loneliness, family, the effect and power of art: yet My Favorite Thing is Monsters never clings to any of its themes long enough to be pinned down or simply defined. Ferris channels the vibe and styles of creators like Joe Sacco, R. Crumb, and Alison Bechdel while remaining wholly original. Each page begs to be studied and poured over for days, but as the story progresses you'll fight the urge to linger in order to see where in the hell this strange, beautiful ride is taking you.
Vault of Midnight
219 S. Main Street, Ann Arbor, MI 48104
734-998-1413