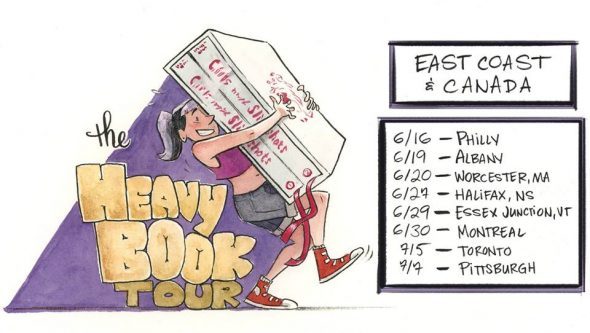 Cartoonist Danielle Corsetto (Girls With Slingshots) appears at Amalgam Comics on Saturday, June 16th from noon till 4:00 PM for a signing and Q&A!
Danielle Corsetto is the artist and creator of Girls With Slingshots. She created her first comic strip when she was 8, starting with a blatant rip-off of Garfield called Fat Cat. She started writing Hazelnuts in high school, and ran a semi-autobio comic about super-senior college kids called Ramblers in the student paper at Shepherd College (as well as Pop Image and World Famous Comics). She also briefly ran a comic called Larry and Caroline in the Hagerstown Herald-Mail newspaper.
Girls With Slingshots debuted on October 1st 2004, both online and in stapled-paper form at SPX in Bethesda, MD. Since its humble beginnings as a twice-weekly black-and-white webcomic, it became a self-sustaining color webcomic that updated five times a week, Monday through Friday.
The strip's two main characters, Hazel and Jamie, sprung to life in a strip called Hazelnuts around 1996, an unintended prequel to GWS. The GWS title was based on a recurring request Danielle used to get at comic conventions to draw a girl with a gun (she sucked at drawing guns, so she drew them with slingshots instead).
Amalgam Comics & Coffeehouse, Inc.
2578 Frankford Ave, Philadelphia, PA 19125
(215) 427-3300