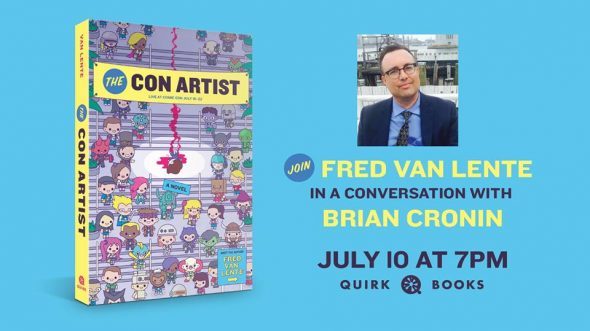 Join  Astoria Bookshop on Tuesday, July 10th, to celebrate the launch of Fred Van Lente's new book The Con Artist! As the #1 New York Times best-selling writer of comics like The Amazing Spider-Man, Deadpool vs. the Punisher, and Archer & Armstrong, Fred Van Lente has been called "a popular culture maven" (Vice). His work has been praised as "some of the funniest material you'll read in any format" (The Hollywood Reporter), and his debut novel, Ten Dead Comedians was an Amazon Best of the Month in Mystery, Thriller, and Suspense. In The Con Artist, Van Lente, who has worked in the comic book industry for nearly twenty years, returns with his second novel, a murder mystery set at a comic convention.
An unconventional whodunit for comic book fans and mystery lovers alike, THE CON ARTIST perfectly captures the chaotic energy of comic cons and reveals that heroes and villains aren't just reserved for the pages and panels of our favorite graphic novels.
Fred Van Lente will be joined by Brian Cronin. Brian Cronin has been writing professionally about comic books for over a dozen years now at CBR (primarily with his "Comics Should Be Good" series of columns, including Comic Book Legends Revealed). He has written two books about comics for Penguin-Random House – Was Superman a Spy? And Other Comic Book Legends Revealed and Why Does Batman Carry Shark Repellent? And Other Amazing Comic Book Trivia! His third book, 100 Things X-Men Fans Should Know & Do Before They Die, came out out from Triumph Books in April 2018. His writing has been featured at ESPN.com, the Los Angeles Times, About.com, the Huffington Post and Gizmodo. He features legends about entertainment and sports at his website, Legends Revealed.
Fred Van Lente is the #1 New York Times bestselling writer of such comics as The Amazing Spider-Man, Marvel Zombies, Deadpool vs. the Punisher, GI Joe, Archer & Armstrong, and many others. He also wrote the novel Ten Dead Comedians. He lives in Brooklyn.
The Astoria Bookshop
31-29 31st Street (between Broadway and 31st Avenue)
Astoria, NY 11106
(718) 278-2665