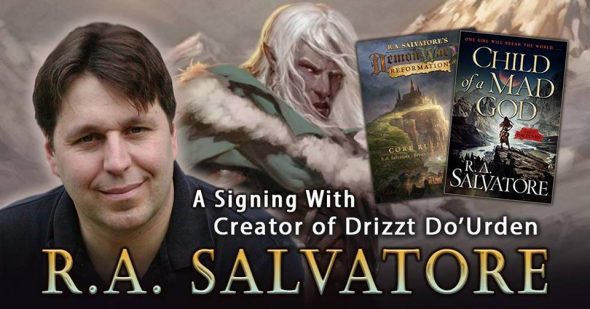 Fantasy Author R.A. Salvatore will be signing at That's Entertainment in Worcester, MA on Saturday, June 16th during Free RPG Day, 3:00 p.m. to 5:00 p.m. This event will be free and appropriate for all ages, especially ages teen and up.
R.A. Salvatore will be signing copies of his newest book Child of a Mad God: A Tale of the Coven and copies of his RPG Demonwars: Reformation, both of which will be available to purchase at That's Entertainment (while supplies last). Attendees can have up to three items signed per person.
R. A. SALVATORE is one of fantasy's most popular authors, with his books frequently appearing on the New York Times bestseller list and more than 10 million copies of his books sold. He is the author of The Bear, The Dame, The Ancient, and The Highwayman as well as Gauntlgrym, The Legend of Drizzt books, including the Dark Elf Trilogy―Homeland, Exile, and Sojourn― and the Demon Wars series, among many others. He lives in Massachusetts.
That's Entertainment
244 Park Ave, Worcester, MA 01609
(508) 755-4207