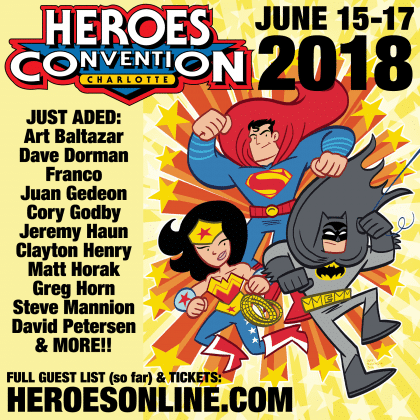 HeroesCon has announced more new guests for their 2018 show including Art Baltazar, Dave Dorman, Franco, Juan Gedeon, Cory Godbey, Jeremy Haun, Clayton Henry, David Petersen, and more! HeroesCon 2018 takes place June 15-17, 2018 at the Charlotte Convention Center.
GUEST ADDITIONS:
ART BALTAZAR | Tiny Titans, Aw Yeah Comics, Itty Bitty Hellboy, Superman Family Adventures
ANDY BELANGER | Southern Cross, Vampirella, WWE
BRENDAN CAHILL | Darkness Visible, Sable & Fortune, Transformers
MICHAEL DOONEY | Teenage Mutant Ninja Turtles, Grimm Fairy Tales, Gizmo
DAVE DORMAN | Star Wars, Aliens, The Wasted Lands
SCOTT FOGG | Phileas Reid Knows We Are Not Alone, Action Lab: Dog of Wonder
FRANCO | Tiny Titans, Aw Yeah Comics, Itty Bitty Hellboy, Patrick the Wolf Boy
JUAN GEDEON | Ghost Racers, Horizon
CORY GODBEY | Mouse Guard, Jim Henson's Labyrinth Tales & The Dark Crystal Tales
JEREMY HAUN | The Beauty, The Realm, Batwoman
CLAYTON HENRY | Black Lightning, Archer and Armstrong, Uncanny X-men, Suicide Squad
JOSH HOOD | Star Trek, We Can Never Go Home, The Flash, Superman
MATT HORAK | Spider-Man/Deadpool, Punisher, Octo Skull
GREG HORN | Elektra, Emma Frost
CHARLIE KIRCHOFF | Doctor Who, Judge Dredd, Dirk Gently's Holistic Detective Agency
STEVE MANNION | Galaktikon, Fearless Dawn, The Bomb, Tales from the Crypt, Spook House
DAVID PETERSEN | Mouse Guard, Teenage Mutant Ninja Turtles
JOHN ROSE | Snuffy Smith
TIM VIGIL | Faust, EO, Webwitch, Frank Frazetta's Dark Kingdom

For the most up-to-date information, check our blog, or sign up for the weekly Heroes Hotline newsletter. You can also follow us on Twitter and Facebook!
BUYING AN ADVANCE PASS MEANS YOU'LL GET ANY ADVANCE INCENTIVES WE OFFER, FREE!
ENTRY WILL BE $25: FRI $25: SAT $20: SUN / AT THE SHOW ITSELF, SO YOU SAVE AS MUCH AS $20 BY PURCHASING ADVANCE PASSES TODAY! TICKETS ARE NOT REFUNDABLE, UNDER CERTAIN CIRCUMSTANCES WE MAY CREDIT AN UNUSABLE TICKET TOWARD FUTURE TICKET PURCHASES.
HEROES CONVENTION was founded in 1982 by Shelton Drum, owner of Charlotte's Heroes Aren't Hard To Find comics shop. Since then the convention has become famous for its comics-first and family-friendly atmosphere, where fans can mingle directly with professionals and exhibitors. Boasting an incredible guest list built mainly on reputation and goodwill, HeroesCon is known nationwide as a "must" on the summer schedule, drawing fans, exhibitors, and creators from all over the world to the Charlotte Convention Center.