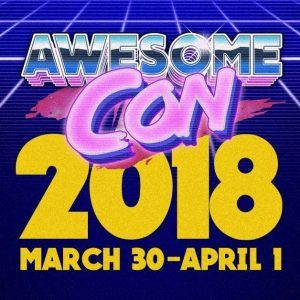 Press Release:
The sixth annual Awesome Con by LeftField Media, the Mid-Atlantic's premier pop culture convention, will unite 80,000 fans of comics, technology and science, television and film, custom art, over-the-top cosplay, and more at the Walter E. Washington Convention Center from Friday, March 30 through Sunday, April 1, 2018. The convention floor and panel rooms will buzz with hundreds of hours' worth of programs including: celebrities and experts hosting panels and exclusive reveals; cosplay fashion shows; gaming tournaments; iconic film memorabilia exhibits; and a diverse array of activities for families on Easter weekend.
Family-friendly pavilion Awesome Con Jr returns with even more playful events planned to educate and entertain kids of all ages and parents alike, with special promotions in place to engage Awesome Con's youngest fans throughout the show. Future Con, Awesome Con's science pavilion, will dive into the latest developments in science and science fiction sure to delight even the most curious minds. Back for the second year is Pride Alley presented in partnership with Geeks OUT, shining a spotlight on LGBTQ creators and fans in an even more robust section of Artist Alley.
With Awesome Con 2018 hosting more energetic programs, more globally recognized special guests, and presenting more exclusive previews and announcements to attendees than ever before, it continues growing into a standout annual destination as an unbridled celebration of pop culture and pure fun.
MEDIA GUESTS:
Dave Bautista (Guardians of the Galaxy's Drax the Destroyer, Blade Runner 2049)
Michael Rooker (Guardians of the Galaxy's Yondu, The Walking Dead)
Stephen Amell (Arrow, New Girl, Private Practice)
John Barrowman (Arrow, Legends of Tomorrow, Torchwood, Doctor Who)
Cress Williams (Black Lightning, Prison Break, Hart of Dixie)
Tom Welling (Smallville, Lucifer)
Pom Klementieff (Guardians of the Galaxy's Mantis)
Michael Rosenbaum (Smallville, Guardians of the Guardians Vol. 2, Impastor)
Sean Gunn (Guardians of the Galaxy's Kraglin, Gilmore Girls)
Joonas Suotamo (Chewbacca in Star Wars: The Force Awakens, Star Wars: The Last Jedi, Solo: A Star Wars Story)
Joe Keery (Stranger Things, Molly's Game, Slice)
Ben Savage (Boy Meets World, Girls Meet World, Chuck, Dear John, Little Monsters, Without a Trace)
Will Friedle (Boy Meets World, Girls Meets World, Batman Beyond, Kim Possible, Guardians of the Galaxy animated series)
Rider Strong (Boy Meets World, Girl Meets World, Cabin Fever)
Charisma Carpenter (Buffy the Vampire Slayer, Angel)
Phil LaMarr (Futurama, Samurai Jack, Pulp Fiction, Justice League Unlimited, Mad TV, Star Wars: The Clone Wars)
Comic Guests:
J. Scott Campbell (Gen¹³, Danger Girl, Spider-Man)
Fabian Nicieza (Deadpool co-creator, X-Men, Thunderbolts, Action Comics)
Jim Starlin (Captain Marvel, Iron Man, Infinity Gauntlet, Batman; co-creator of Drax, Gamora, and Thanos)
Greg Capullo (Batman, Reborn, X-Force, Quasar, The Creech)
Scott Snyder (American Vampire, Batman, Swamp Thing, Voodoo Heart)
Tom King (Batman, The Sheriff of Babylon, The Vision)
Colleen Doran (A Distant Soil, Wonder Woman, Amazing Spider-Man)
Sean Gordon Murphy (Batman: White Knight, Hellblazer: City of Demons, Punk Rock Jesus, Shaun of the Dead, Teen Titans, The Wake, Tokyo Ghost)
James Tynion IV (Detective Comics, Batman, The Woods)
Sorah Sungh (Iron Man, Princeless)
TICKETS
Friday or Sunday Only Admission: $35
Saturday Only Admission: $50
3-Day Weekend Pass: $75
3-Day 'Geekend VIP' Pass: $150
Kids 10 and under: free with coupon code AWESOMEJR
VIP passes & experiences range from the VIP Geekend ($150) to the premium, limited quantity Club Awesome Reserve Membership ($999) and offer access to various celebrity appearances and special events.
About Awesome Con
Awesome Con is the biggest annual comic and pop culture convention in Washington, D.C., having welcomed over 71,000 attendees in 2017. Awesome Con celebrates all aspects of geekdom and pop culture, with a wide assortment of engaging events, comic books, collectibles, toys, games, original art, cosplay and more. Awesome Con is presented in partnership with LeftField Media, an event organization company developed by the founder of New York Comic Con. Learn more at www.awesomecon.com.