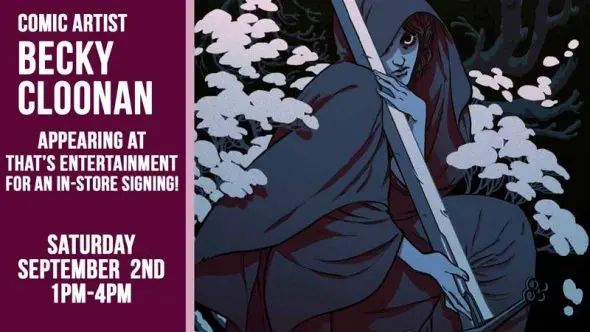 Press Release:
Acclaimed comic book creator Becky Cloonan will appear for a reception and signing event at That's Entertainment in Worcester on Saturday, September 2nd from 1:00 till 4:00 PM. Cloonan will be signing comics and other memorabilia. She will be selling prints and pins at her table. The event is free and open to the public, and all ages are welcome.
The reception celebrates the installation of an original 16-foot x 24-foot mural which Cloonan will paint on the Lois Lane side of That's Entertainment's building throughout the week prior to the signing event. Cloonan's mural is part of the Pow! Wow! Worcester art event, and That's Entertainment is one of the sponsors. Visitors will be able to see the mural taking shape beginning August 25th.
Becky Cloonan is a versatile and well-known comic book artist and writer, whose output has ranged from self-published mini-comics to work for the major publishers over the past fifteen years. In naming her one of the top female comic creators of all time, Comic Book Resources called Cloonan "a fast rising star [who] as a result… has a shocking list of credits for one so young" and added that "she has especially become known for her ability with horror, subtle or unsubtle. The ability to create real mood and atmosphere and emotional resonance through her imagery."
For Vertigo, she worked with writer Brian Wood on Demo and Northlanders, and drew the American Virgin series. For DC Comics, Cloonan's most notable work was as writer and artist on Gotham Academy, and she also drew issues of Swamp Thing and Harley Quinn. She became the first female artist in history to draw the main Batman title. Cloonan also wrote Southern Cross for Image Comics, and has also collaborated with Wood on Conan the Barbarian for Dark Horse Comics.
That's Entertainment Manager Ken Carson says, "Cloonan's Conan the Barbarian art was especially impressive and memorable for me. Conan has appeared in comics for almost 50 years, and actually goes back to the 1930s in pulp magazine stories. But Becky somehow gives the character a completely fresh take, so it all seems brand new again."
By Chance or Providence: Stories by Becky Cloonan, just released in a trade paperback edition by Image Comics, collects in one volume her trilogy of award-winning short stories: "Wolves", "The Mire" and "Demeter".
"This volume is a showcase for Becky's storytelling talent," says That's Entertainment's Marketer Sorana Gatej.
"The best comic books blend words and pictures seamlessly, and her stories of sword and sorcery are haunting and lovely."
"Anytime would be a fine time to host Becky Cloonan, and to have her create a giant, wonderful mural on our building," adds Carson. "But since we are in the midst of celebrating our 25th year on Park Avenue, this all seems especially well-timed."
Located at the corner of Lois Lane and Park Ave. in Worcester, MA, That's Entertainment is a pop culture emporium which specializes in everyone's "geek." Checkout their wide variety of comics, vinyl records, vintage and modern video games and systems, anime, collectible card games, roleplaying games, board games, sports cards, memorabilia, toys, posters, and so much more!
That's Entertainment
244 Park Ave, Worcester, MA 01609
(508) 755-4207