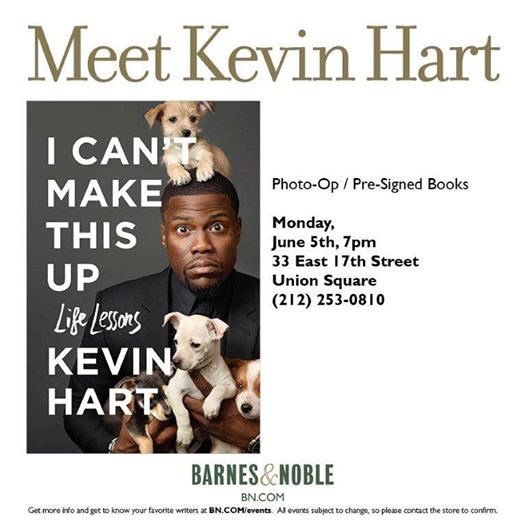 Comedian Kevin Hart appears at Union Square's Barnes & Noble on Monday, June 5th at 7:00 PM.
Press Release:
Award-winning actor, Superstar comedian and Hollywood box office star, Kevin Hart can now add author to his list of accomplishments as he turns his immense talent to the written word by writing some words. Some of those words include: the, a, for, above, and even even. Put them together and you have the funniest, most heartfelt, and most inspirational memoir on survival, success, and the importance of believing in yourself since Old Yeller.
Like Ernest Hemingway, J.K. Rowling, and Chocolate Droppa before him, was able to defy the odds and turn it around. In his literary debut, he takes the reader on a journey through what his life was, what it is today, and how he's overcome each challenge to become the man he is today.
His films, including Central Intelligence, Think Like A Man, Get Hard, Ride Along, The Wedding Ringer, and The Secret Life Of Pets have earned over $3.5 billion at the box office. His stand-up comedy tours, including Kevin Hart: Let Me Explain, Kevin Hart: Laugh at My Pain, and Kevin Hart: What Now?, have sold-out arenas and football stadiums, leading Forbes to name him the "king of comedy." He is also the first comedian with a Nike sneaker line; a television producer, creating the BET show Real Husbands of Hollywood and the Laugh Out Loud Network; and CEO of Hartbeat Productions.
This is a wrist-banded event.
A wristband will be issued on a first come, first serve basis to customers who purchase a pre-signed copy of I Can't Make This Up: Life Lessons from Barnes & Noble at Union Square beginning June 5th at 9am
• Limit 1 wristband per book.
• All books will be pre-signed by Kevin Hart
• Additional personalization will not be available
• Every fan will get a picture with Kevin taken by our photographer
• Pictures can be retrieved for FREE after the event at kevinhartbook.photos
• No personal photography
• No memorabilia
• Check back for more details as they become available
Barnes & Noble – Union Square
33 East 17th Street, New York, NY 10003
212-253-0810