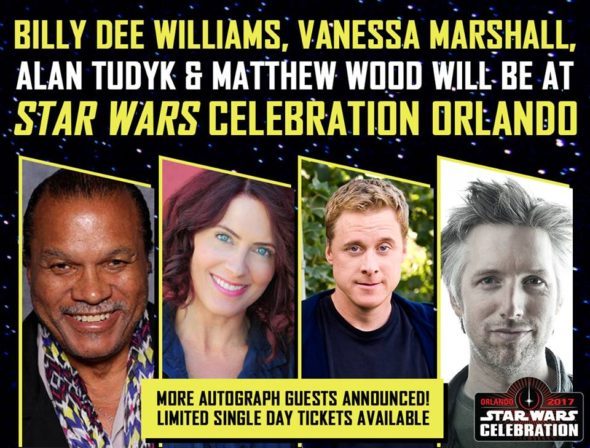 Star Wars Celebration welcomes Billy Dee Williams, Vanessa Marshall, Alan Tudyk, and Matthew Wood!
These new Autographing Guests will be in the Autograph Hall at Star Wars Celebration.  Celebration is very happy to be working with Topps on the Celebration Autograph Hall. For more information on purchasing Autographs and Photo Ops, please check out Star Wars Authentics.
Billy Dee Williams: Lando Calrissian, Star Wars: The Empire Strikes Back,  Return of the Jedi and Star Wars Rebels
Hollywood icon Billy Dee Williams was an exceptional addition to the cast of heroes in the Star Wars universe, backed by his powerful performance opposite Diana Ross in the films Mahogany and Lady Sings the Blues. Appearing in both Star Wars: The Empire Strikes Back and Return of the Jedi, Williams brought the iconic character Lando Calrissian to life on the big screen.
Williams' career includes roles in the films Undercover Brother, Nighthawks, Bingo Long, Batman, and Bryan's Song. He's been nominated for the Emmy and Independent Spirit Awards, and been presented the TV Land and Image Awards for his performances. In the world of television, Williams has appeared on Dynasty, Lost, NCIS, Night Shift, and Glee to name a few. He has voiced Lando Calrissian in video games, television specials, and in Star Wars Rebels.
Vanessa Marshall: Voice of Hera Syndulla, Star Wars Rebels and Rogue One.
An accomplished artist and author, Williams has been nominated for a Guggenheim Award and won an Hallgarten Award, an honor in the art world.
A graduate of Princeton University with a Masters in acting from NYU, Vanessa Marshall plays Hera in "Star Wars: Rebels," Gamora in "Guardians of the Galaxy," Mary Jane in "The Spectacular Spider-man," Wonder Woman in "Justice League: Flashpoint Paradox," Poison Ivy in "Batman: Brave and the Bold," Black Canary in "Young Justice," and Black Widow in "Avengers: Earth's Mightiest Heroes." In the world of games, she voiced Olga in "Metal Gear Solid 2," H.Q. in "Socom II" and Jan Ors in "Star Wars: Jedi Knights II." She is currently the voice of Freeform, and she has also done promos for CBS, HGTV, and MTV.  As a stand up comic and former "plus-size" model, she also created a one-woman show "Got Phat?" – which ran successfully in both LA & NYC.  See www.VanessaMarshall.com for more details.  Follow her @vanmarshall on Twitter and @vanessamarshall1138 on Instagram.
Alan Tudyk: K-2SO, Rogue One
Alan Tudyk is a multi-dimensional actor whose credits span throughout stage, film, television and voiceover entertainment platforms. Over the span of his career, his films have garnered over $2 Billion at the Box Office.
In 2016, Tudyk appeared in Lucasfilm's "Rogue One: A Star Wars Story," as the scene-stealing and snarky, security droid, 'K-2SO.' Directed by Gareth Edwards, the film grossed over $1 billion at the global box office and is the first live action Star Wars spin-off. He also voiced characters in two Academy-Award nominated animated films, playing the 'Duke of Weaselton' in Disney's "Zootopia" and the rooster 'Hei Hei' in Disney's "Moana."
Tudyk also stars as 'Van' in NBC's new upcoming workplace comedy "Powerless," opposite Vanessa Hudgens. Danny Pudi, Ron Funches, and Christina Kirk also star. "Powerless" is the first comedy series set in the universe of DC Comics, where the story follows the reality of working life for a normal, powerless person in a world of superheroes and villains. "Powerless" premiered February 2, 2017.
Tudyk is also the creator and star of the record breaking web series, "Con Man."Executive produced by Tudyk, Nathan Fillion and author PJ Haarsma, the series was funded via Indiegogo, resulting in a record-breaking $3.2 million donation which had the support of over 46,000 fans from around the world. The second season of the series debuted on Lionsgate's Comic-Con HQ on December 8th. Loosely based on Tudyk's and Fillion's experiences starring in "Firefly," "Con Man" centers on the post-show life of 'Wray Nerely' (Tudyk), the co-star of "Spectrum," a sci-fi TV series canceled before its time that later became a cult classic beloved by fans. 'Wray's' best friend, 'Jack Moore' (Fillion) starred as the series' Captain and has gone on to become a major celebrity, while 'Wray' continues to struggle to find his big break. While 'Jack' enjoys the life of an A-lister, 'Wray' is the begrudging guest of sci-fi conventions, comic book store appearances and different pop culture events. The series explores these events and all the crazy and real things that happen behind the scenes in the world of fandom. In 2016, Tudyk, along with Fillion, also launched "Con Man: The Game" based on the series. The game allows players to build and host their own comic book conventions and can be downloaded for free on iTunes and Google Play.
Tudyk has shown audiences wide versatility in numerous television shows and a plethora of feature films. Most recently he co-starred in the Jay Roach 2015 SAG Award nominated feature "Trumbo," opposite Bryan Cranston, Diane Lane, Helen Mirren, John Goodman, Louie CK, Michael Stuhlbarg and Stephen Root as well as 2014's "Welcome to Me" with Kristin Wiig. In 2013, Tudyk co-starred in the well-received Jackie Robinson biopic, "42," as former Phillies manager 'Ben Chapman.' He made his feature film debut in 1998, when he first appeared opposite Robin Williams in "Patch Adams."
Tudyk's role in the Disney's animated feature, "Wreck it Ralph," garnered him an Annie Award for his role as 'King Candy.' He returned to the recording booth to voice 'The Duke of Weaselton' in Disney's Academy Award-winning "Frozen." He continued his work with Disney Animation Studios voicing 'Alister Krei' in "Big Hero 6" and will reprise his role in the upcoming "Big Hero 6" television series on Disney XD. He can also be heard as 'Ludo' and 'King Butterfly' on the Disney Channel series, "Star vs. the Forces of Evil," which had its second season premiere on July 11th. Tudyk has also done voice work for many other features, television shows and video games.
His film credits also include: "Wonder Boys," "28 Days," "A Knight's Tale," "Dodgeball: A True Underdog Story," "Death at a Funeral" (the original UK version), "Knocked Up," "Tucker and Dale vs Evil," "3:10 to Yuma," "Serenity," "Premature," "Abraham Lincoln Vampire Hunter," and "Transformers 3." Additionally, Tudyk motion performed the lead robot, 'Sonny,' in "I, Robot" opposite Will Smith.
In television, Tudyk was a series regular on the critically acclaimed ABC comedy, "Suburgatory" and he reprised his role in the Netflix revival of "Arrested Development" as 'Pastor Veal.' His work on Joss Whedon's "Firefly," has been highly lauded by fans and has gained him a strong cult following. Tudyk also appeared in "Strangers with Candy," "Dollhouse," "Frasier," and "Justified." He also was the host of "Newsreaders," written and produced by Rob Corddry and David Wain, on Adult Swim.
Tudyk attended the prestigious Juilliard School in New York and has starred on Broadway opposite Kristin Chenoweth in "Epic Proportions," played 'Lancelot' with the original cast in Monty Python's "Spamalot," as well as the lead role of 'Peter' in "Prelude to a Kiss" opposite John Mahoney.
Tudyk grew up in Plano, Texas and lives in Los Angeles.
Matthew Wood: Voice of General Grievous, Star Wars: Episode III Revenge of the Sith and The Clone Wars
Matthew Wood has been bringing digital technology to the forefront of filmmaking for over 25 years. As a film and journalism major in college, Matthew realized the potential for blending his creative studies with his lifelong passion for computers, and this innovative edge singled him out. He was invited to join Lucasfilm as a part of the Sound Droid development team at age 17 in 1990.
Through the '90s, Wood worked on The Young Indiana Jones Chronicles, Mission Impossible (1994), Con Air, Eraser, and finally Star Wars: The Phantom Menace in 1997 as Supervising Sound Editor, a role he reprised on both Star Wars: Attack of the Clones and Star Wars: Revenge of the Sith.
In addition to his work in sound, Wood lent his acting talents to the roles of Bib Fortuna and Ody Mandrell in The Phantom Menace and the voices of Magaloof and Seboca in Attack of the Clones. Revenge of the Sith would allow Matthew to expand his acting in the prequels one giant step further, landing the role of the voice of General Grievous for Revenge of the Sith.
Starting in 2006, Matthew started working on the Emmy award winning Star Wars: The Clone Wars, reprising his role as the voice of General Grievous and behind the scenes as Supervising Sound Editor.  He picked up new voices roles as all the battle droids, Wat Tambor and Poggle the Lessor.
In between Star Wars projects, Matthew supervised the soundtracks at Skywalker Sound on Paul Thomas Anderson's There Will Be Blood as well as Disney/Pixar's Wall*E which earned him a BAFTA and Academy Award nominations on both films.
After working with J.J. Abrams on Super 8 and Star Trek Into Darkness, Matthew was the natural choice to supervise Star Wars: The Force Awakens, garnering BAFTA and Academy nominations once again.
Currently, Wood has been very busy as the Supervising Sound Editor on the Star Wars Rebels animated series, Rogue One: A Star Wars Story, and Star Wars: The Last Jedi.  He is also voicing a main character "Roger" the battle droid on Lego Star Wars: The Freemaker Adventures.
For tickets and further information please go to the website: www.starwarscelebration.com