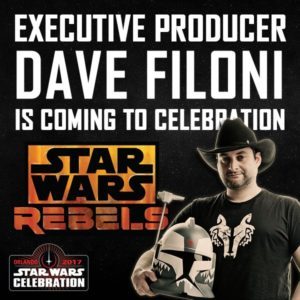 Press Release:
Star Wars Rebels Executive Producer and Supervising Director Dave Filoni is headed to Star Wars Celebration Orlando. On Saturday April 15th Filoni and special guests will bring an epic sneak peek at what's to come in Star Wars Rebels fourth season!
Filoni's unique talent as a storyteller and filmmaker has added depth and resonance to the Star Wars universe, and introduced countless fan-favorite characters, via the critically acclaimed TV series Star Wars: The Clone Wars and Star Wars Rebels.
From the exclusive reveals, to the always lively audience Q&A, Celebration fans know this panel is not one to miss!
For tickets and further information please go to the website: www.starwarscelebration.com