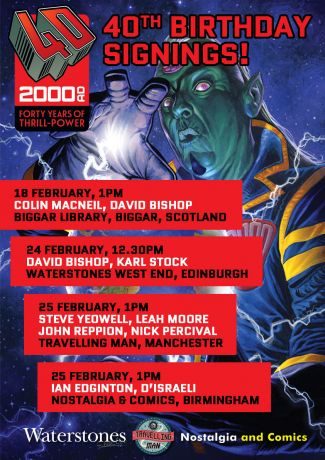 Press Release:
2000 AD is to celebrate its birthday weekend in style with signings across the country!
With the massive success of the sold-out 40 Years of Thrill-power Festival in London last weekend and with its actual birthday of 26 February fast approaching, 2000 AD is delighted to announce new signing events in Manchester, Birmingham, and Scotland.
Earthlets who missed out on the historic event in Hammersmith will be able to meet just some of the incredible creators who've made 2000 AD the galaxy's greatest comic.
The perfect tome to launch these celebrations is Thrill-power Overload, a whopping 300+ page hardcover containing the updated official history of 2000 AD, from its earliest days to its current success, from creator clashes to near-cancellation.
On Saturday 18 February, Biggar Library and Scottish independent Bookshop of the Year Atkinson-Pryce will host a Thrill-power Overload signing with artist Colin MacNeil (Judge Dredd: America) and former 2000 AD editor David Bishop from 1pm.
Then on Friday 24 February, Waterstones West End in Edinburgh will host Thrill-power Overload authors David Bishop and Karl Stock for a signing at 12.30pm.
At 1pm on Saturday 25 February, signings will take place at the Travelling Man comic book store in Manchester and the Nostalgia and Comics store Birmingham with topflight creators Steve Yeowell (Zenith), Leah Moore (Storm Warning), John Reppion (Storm Warning), Nick Percival (Judge Dredd), Ian Edginton (Scarlet Traces), D'Israeli (Scarlet Traces).
This year the legendary weekly British anthology comic 2000 AD celebrates forty years of innovative, provocative, and original sci-fi, fantasy, and horror action from the cream of comics creators. It has brought the industry some of its biggest talents, from Alan Moore, Grant Morrison, and Mark Millar, to Jock, Brian Bolland, Dave Gibbons, and many more. Published in print and digital every Wednesday, 2000 AD is the Galaxy's Greatest Comic and remains at the industry's cutting edge.
Full signing details:
18 February
Colin MacNeil, David Bishop – Biggar Library, Biggar, Scotland , 1pm
24 February
David Bishop, Karl Stock – Waterstones West End, Edinburgh, 12.30pm
25 February
Steve Yeowell, Leah Moore, John Reppion, Nick Percival – Travelling Man, Manchester, 1pm
Ian Edginton, D'Israeli – Nostalgia & Comics, Birmingham, 1pm