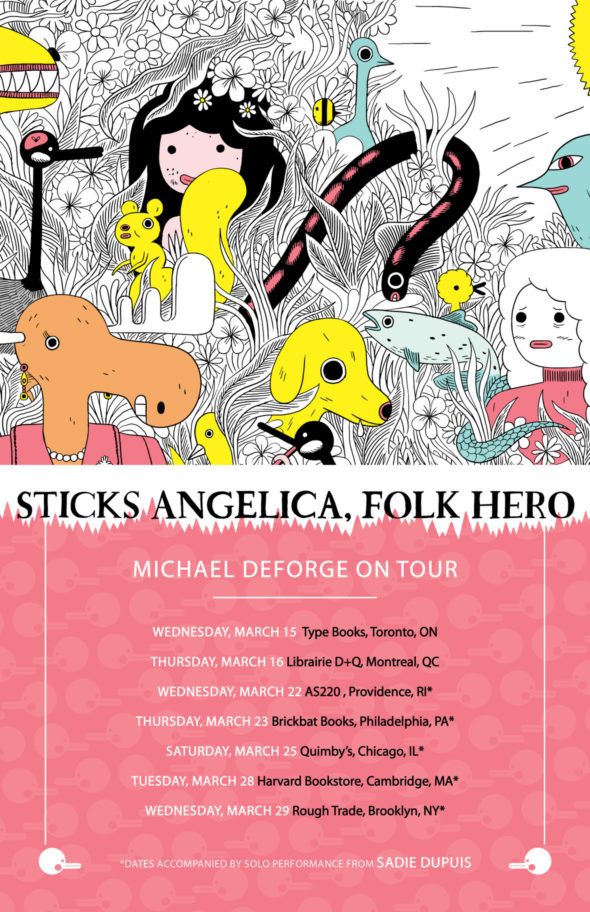 Press Release:
Join Michael DeForge at AS220 on Wednesday, March 22, 2017 at 7:00 PM for a live reading and book signing as he introduces the world to Sticks Angelica, Folk Hero. Sticks has escaped her heritage for the refuge of the woods and through her story, DeForge delivers another deeply humane work, one that subtly questions the integrity of the political state and contemporary journalism, all while investigating our relationship to the natural world.
Michael will be joined by Mickey Zacchilli, and musician Sadie Dupuis (Sad13, Speedy Ortiz) who will play a solo set following the reading. Come out for a celebratory lo-fi comics night!
Author Bio:
Michael DeForge was born in 1987 and grew up in Ottawa, Ontario. His one-person anthology series Lose has been nominated for, or won, every major comics award including the Ignatz and Eisner awards. His previous graphic novels with Drawn & Quarterly are Ant Colony, Big Kids, and First Year Healthy. This March he releases Sticks Angelica, Folk Hero.
Sadie Dupuis is a musician, writer and artist who most frequently performs as the frontdemon of the rock group Speedy Ortiz, which has released two critically acclaimed albums for Carpark Records. She also writes politically-geared pop songs under the moniker Sad13. Based in Philadelphia, her writing on music has been published in Spin, New York Magazine, and Nylon, and she earned an MFA in poetry from UMass Amherst.
AS220
115 Empire Street, Providence, RI 02903
(401) 831-9327