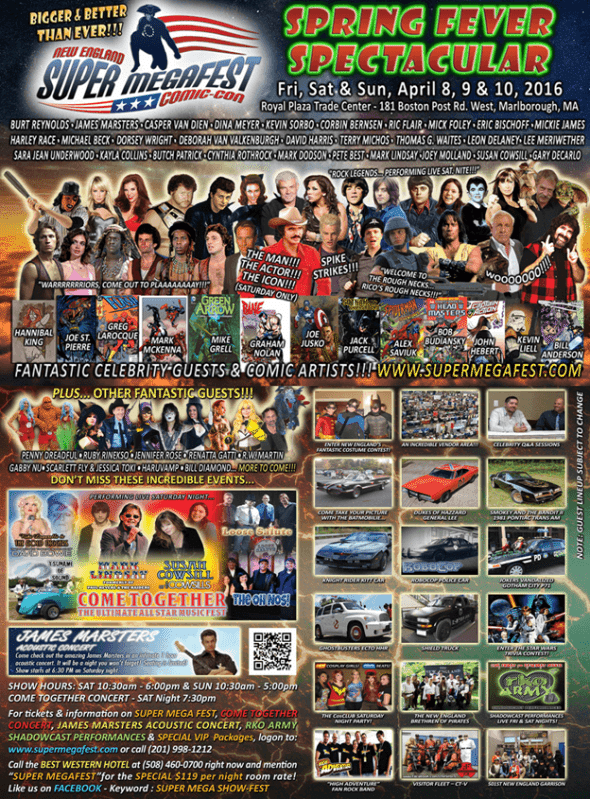 Press Release:
75,000- square feet of Spectacular on APRIL 8-10th, 2016!
The NEW ENGLAND SUPER MEGAFEST SPRING SPECTACULAR is here! Hollywood comes back to New England this Spring! Comics, Movies, Super Heroes, Music, Wrestling and Intergalactic Fun come together in Marlborough at the SUPER MEGAFEST, New England's premiere Celebrity Pop Culture Fan Fest!
Tickets are now on sale!
ORDER TICKETS ONLINE for super easy check in with print or selfie tickets!
The SUPER MEGAFEST COMIC CON SPRING SPECTACULAR takes place
Friday, April 8th from 4pm to 9pm,
Saturday, April 9th from 10:30am to 6pm
Sunday, April 10th from 10:30am to 5pm
at the ROYAL PLAZA TRADE CONVENTION CENTER located at 181 Boston Post Rd. West, Marlborough, MA 01752.
This year's event will feature Hollywood Icons & Celebrities, an awesome array of Comic Artists, Authors, plus Science Fiction, Wrestling and Rock & Roll legends!
Comic, Movie and TV fans will be thrilled with the rare appearances of:
GUEST OF HONOR – BURT REYNOLDS – Saturday only!
JAMES MARSTERS  – Spike of Buffy/Angel, Smallville,Torchwood, Caprica and much more!
PETER MAYHEW – CHEWBACCA of Star Wars!
KEVIN SORBO – Star of Hercules, Andromeda and much more!
RIC FLAIR – ( Sat & Sun) Legendary Wrestling Super Star!
DINA MEYER – Starship Troopers, SAW, Birds of Prey and more!
CASPER VAN DIEN – Starship Troopers, Tarzan, Sleepy Hollow and more!
MICK FOLEY– (Friday & Sat) Wrestling Superstar!
THE WARRIORS Reunion – featuring Michael Beck, Dorsey Wright, Thomas G Waites, Terry Michos, David Harris and Special Guest Deborah Van Valkenburgh !
LEE MERIWETHER – Batman's Catwoman, Barnaby Jones and more!
CORBIN BERNSON – starred in L.A. Law, The Dentist, Psych, Major League, Major League II, and Major League: Back to the Minors, General Hospital, Cuts and much more!
ERIC BISCHOFF – WWE, WCW and more!
MICKIE JAMES – professional wrestler, actress, model and country singer!
BILLY ZABKA – Karate Kid!
BUTCH PATRICK – Eddie Munster and much more!
SARA JEAN UNDERWOOD – Actress, Model & fan favorite! ATTACK OF THE SHOW!,  EPIC MOVIE & MTV'S Ridiculousness plus much more!
KAYLA COLLINS – Actress, Model, Disc Jockey & Music Producer, Designer, and Entrepreneur!
PETE BEST – original drummer for The Beatles!
JOEY MOLLAND – of BADFINGER rock n' roll fame!
HARLEY RACE – (Sat & Sun) Legendary wrestler!
CYNTHIA ROTHROCK – (Sat & Sun) Queen of Martial Arts films!
MARK DODSON – voice actor of Star Wars Force Awakens, gremlins and more!
KADROLSHA ONA – Queen of the Paranormal!
MARK LINDSAY – formerly of Paul Revere and the Raiders!
SUSAN COWSILL – of The Cowsills
BILL DIAMOND – Puppeteer of Monster TV Network, Great Space Coaster, Dark Crystal, Fraggle Rock, Dr. Rock's Dinosaur Adventure (FOX) and Sesame Street!
COMIC ARTISTS include:
MIKE GRELL  – Comic artist for Legion of Super Heroes, Green Lantern/Green Arrow, The Warlord, and Jon Sable Freelance and much more!
GRAHAM NOLAN  – Inkpot Award winning cartoonist best known for BATMAN in Detective Comics and as the de-signer of BANE!
JOE JUSKO – painted almost every major Marvel character over the last three decades!
ALEX SUVIAK – Marvel and DC Comics Artist – including Spider-man, Green Lantern, Superman and more!
BOB BUDIANSKY  – comic book writer, editor, and penciller, best known for his work on Marvel's Transformers comic and much more!
MARK TEXEIRA – huge resume of comic art!
JACK PURCELL – Artist JSA, Guardians of the Galaxy, Batgirl plus much more!
JOE ST PIERRE – Comic artist for an amazing array of Super Heroes including Spider-man, Fantastic Four and more!
BILL ANDERSON – Artist for hundreds of comics for Marvel, DC, Image, Comico, First and many more!
JOHN HEBERT– X-Men Adventures, Punisher, Deathlok and current Captain Action artist!
MARK MCKENNA – Artist for Marvel and DC comics – The X Men, Spider Man, Batman, The Justice League and more!
The stars will be signing autographs and doing Q & A sessions with fans throughout the day. Professional photos with most celebrities will be available on site!
X-Men and other Marvel and DC writers and artists will give panel discussions and mingle with celebrities and costumed fans!
The Super Megafest presents the best exhibitors on the East Coast with one of the largest selections of comics, toys, videos, non-sports cards and memorabilia from Comics, TV, Movies, and Rock & Roll that you will ever find!
Other attractions include an amazing Costume Contest (including a children's category), stunning Movie Cars, mischievous Pirates and much more!  After hours, enjoy a multitude of shadowcast movie performances and parties, including the COME TOGETHER MUSIC FEST and CosCLUB DANCE PARTY, ensuring the event has something for all ages.
For more info log onto WWW.SUPERMEGAFEST.COM