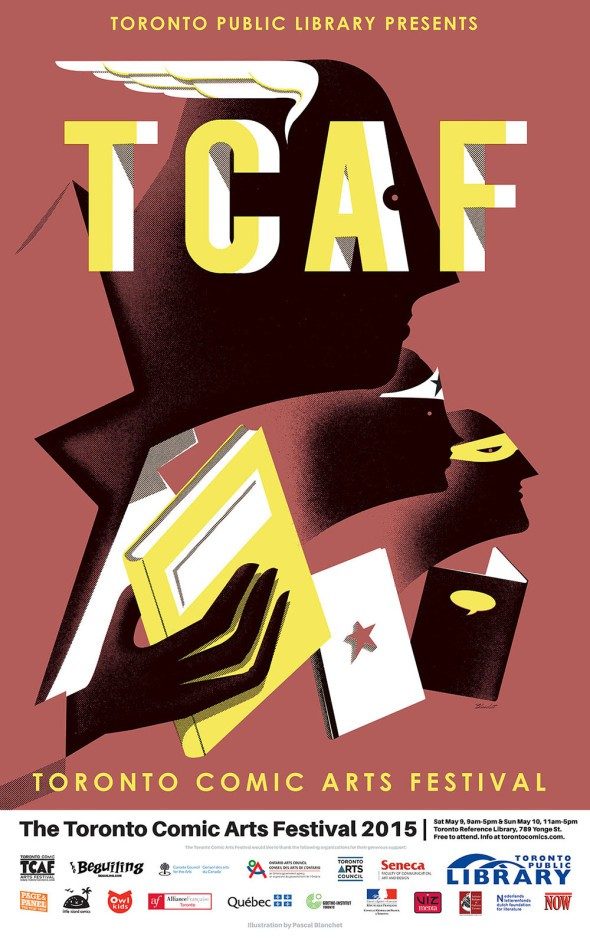 Press Release:
The Toronto Comic Arts Festival (TCAF) is thrilled to announce our initial Featured Guests and Events for TCAF 2016, taking place May 14th and 15th in Toronto, Canada! With over 400 cartoonists scheduled to attend from more than a dozen countries on their way to Toronto this May, we're getting ready celebrate the very best in comics, graphic novels, bandes dessinées, and manga! Prepare yourself for a week of readings, launches, and art events culminating in a massive, FREE two-day exhibition at Toronto Reference Library, May 14 and 15, 2016!
Every year the Toronto Comic Arts Festival showcases Canada's incredible comics talent on a world stage by promoting some of our best and brightest creators and publishers, and inviting the attention of the global cartooning community. The 2016 programme builds on our previous successes, with a continued commitment to offer more engaging programming, in multiple formats, focusing on compelling and challenging work being made across the world. Art sales and exhibition, increased programming, and gallery shows are at the core of the 2016 programme, as highlighted by these talented Featured Guests:
—
Canadian comics hero Kate Beaton is the creator of beloved humour series Hark! A Vagrant, which has spawned a bestselling book of the same title. In 2015, Beaton released her first picture book, The Princess and the Pony (Scholastic), and a second collection of strips entitled SThe Princess and the Ponyde, Pops (Drawn & Quarterly). Beaton's work is both expressive and hilarious, possessing a signature style and wit that are uniquely her own. Kate Beaton is one of TCAF's 2016's official poster artists, and we will be revealing her official poster in the next few weeks!
Duncan Fegredo has been on the North American comics scene since illustrating Kid Eternity (DC Comics) with writer Grant Morrison. Since then he's gone on to illustrate a number of critically acclaimed works, including Enigma (DC Comics) with writer Peter Milligan, and a much-lauded run on Hellboy (Dark Horse) with Mike Mignola. His most recent work is MPH (Image Comics), with writer Mark Millar. This will be Duncan Fegredo's first visit to TCAF, and we're excited to welcome him to Canada!

Lisa Hanawalt is amazing! Since debuting My Dumb Dirty Eyes at TCAF 2013, Hanawalt has really made her mark at the designer of the Netflix super hit series BoJack Horseman, contributing columns to Lucky Peach magazine, and co-hosting the podcast Baby Geniuses. She is returning to TCAF 2016 as a Featured Guest to in support of her new graphic novel Hot Dog Taste Test (Drawn & Quarterly), debuting at the show!

MariNaomi is a prolific creator of autobiographical comics. She an Eisner-nominated artist, known for fantastic books like Dragon's Breath and Other True Stories and Kiss & Tell: A Romantic Resume, Ages 0 to 22. At TCAF 2016 she will be debuting the brand new book Turning Japanese (2D Cloud). We're so pleased to have her join us as a Featured Guest!

Noir comics master Sean Phillips is coming back to TCAF! Phillips has worked on everything from Batman to X-Men, but he's maybe best known for his collaborations with writer Ed Brubaker: Criminal, Incognito, Fatale, and the recently-completed The Fade Out (Image Comics). This year, Sean is bringing with him "Phono+Graphic," an art show that spotlights over 80 amazing album covers created by comics artists for vinyl records. The show tours here from the Lakes International Comic Arts Festival, and we're excited to bring it to Canada.

With six books under his belt, Michel Rabagliati is an essential figure in not only the comics scene of Quebec, but all of Canada. Creator of essential works like Paul Moves Out, Paul Joins the Scouts, and The Song of Roland (recently adapted into a feature film!), Michel is attending TCAF 2016 to debut the English version of Paul Up North (Conundrum) and to celebrate the 20th anniversary of Canadian publisher Conundrum Press. It's sure to be a real party!

Rokudenashiko is a world-famous artist, best known for her vulva-centric sculptures. Her work challenges Japan's prudish censorship laws, which has now led to her being twice arrested by the on obscenity charges in Japan. Rokudenashiko is attending TCAF 2016 in support of her new graphic novel and essay collection What Is Obscenity? The Story Of A Good For Nothing Artist And Her Pussy (Koyama Press), produced in association with MASSIVE.

His name is Chip Zdarsky, and we're thrilled to welcome him back to TCAF 2016 as a Featured Guest and one of our 2016 Poster Artists. Chip Zdarsky is the co-creator of the books Sex Criminals and Kaptara (Image Comics), and is writing Howard The Duck (Marvel Comics) and Jughead (Archie Comics). We'll be revealing his 2016 poster in the next few weeks!
And these are just the first eight featured guests among the more than 400 Canadian and International cartoonists participating in the 2016 Festival.
Featured guests will continue to be announced through January, February, and March, with special guests from Germany, Italy, USA, France, Japan, and Canada still to be revealed!
In addition to the programmes mentioned above, TCAF 2016 will also feature several programming spotlights including a special tribute to the wonderful and hardworking Canadian publisher Conundrum Press, on the occasion of their 20th Anniversary, and First Second Books on their 10th Anniversary.
Additional Programs will be announced in February and March, including the CSSC-SCEBD Academic Conference, Library & Educator Day, Word Balloon Academy, Comics Vs. Games 5, Gallery Showings, Screenings, and much more. Visit TCAF online for up-to-the-minute updates.
The Toronto Comic Arts Festival 2016, Saturday May 14, 9am-5pm, and Sunday May 15, 10am-5pm, @ Toronto Reference Library, 789 Yonge Street. Attendance is FREE to the public. Full details on the TCAF website: www.torontocomics.com