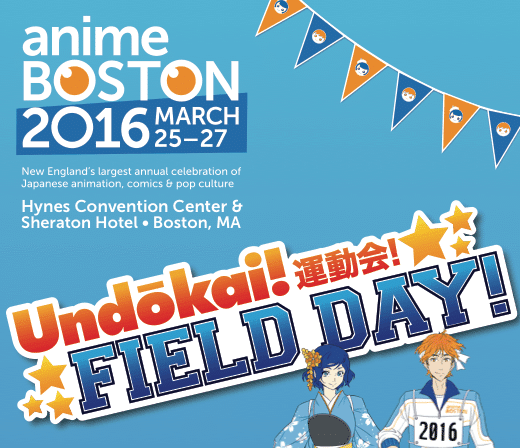 Press Release:
Anime Boston, the largest anime convention in New England, announced its first guest of honor today.  Voice actors Greg Ayres, Todd Haberkorn, and Monica Rial will appear at Anime Boston at the Hynes Convention Center, Boston, Mass. on March 25 through March 27, 2016.
Greg Ayres has spent the last fourteen years working in an industry he had admired for years as a fan. With over 200 credits to his name, this fan-boy has managed to get to play a variety of characters that are almost as colorful as his hair. He's thrilled to splash his way into 2015 in the role of Nagisa Haruki in Free Eternal Summer, and equally as excited to "kill" as MonoKuma in Danganronpa, and Doug in Gangsta.
Todd Haberkorn has been on stage, on set, and behind a mic for many years. Not only is Todd an actor in LA, he works as a producer, writer, and director as well.
In the world of anime, Todd got his first major start in Suzuka as Yamato Akitski. From there, he went on to voice roles such as Jadeite from Sailor Moon, Natsu from Fairy Tail, Italy from Hetalia, Ling Yao from Full Metal Alchemist: Brotherhood, Cheren from Pokemon, Allen Walker from D. Gray Man, Hikaru Hitachin from Ouran High School Host Club, Death The Kid from Soul Eater, Bataar Jr. from The Legend of Korra, and many others.
Monica Rial has been working in the anime voice over industry for 16 years and is currently listed as the most prolific anime voice actor in the USA. She has lent her voice to over 400 anime including: Assassination Classroom (Kaede), Baccano! (Chane), Black Butler (Mei Rin), Certain Magical Index (Index), Deadman Wonderland (Shiro), Fairy Tail (Mirajane), FMA (Lyra/Dante, May Chang), Hetalia (Belarus), Michiko & Hatchin (Michiko), One Piece (Tashigi/Carue/Kuina), Ouran Host Club (Renge), Panty and Stocking (Stocking), Soul Eater (Tsubaki), Tokyo Ghoul (Rize), Tsubasa (Sakura), Watamote (Tomoko), Yona of the Dawn (Yona), and many more.
About Anime Boston:
Anime Boston is an annual three-day Japanese animation convention held in Boston, Mass. Anime Boston 2016 is scheduled for Friday, March 25 through Sunday, March 27 at the Hynes Convention Center and Sheraton Boston Hotel. More information about Anime Boston can be found at www.animeboston.com.
About New England Anime Society:
The New England Anime Society was founded in 2001. Based in Massachusetts, The New England Anime Society, Inc. is parent organization of Anime Boston and is dedicated to furthering public education and understanding of the Japanese language and culture through visual and written media. More information about The New England Anime Society is available at www.neanime.org.