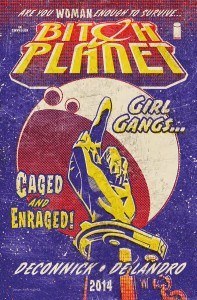 Writer Kelly Sue DeConnick and artist Valentine De Landro appear at Stadium Comics on Wednesday, December 10th at from 10:00 AM till noon to celebrate the launch of BITCH PLANET from Image Comics!
Press Release:
BITCH PLANET is the next big series from Image Comics, by the super-powered creative team of illustrator VALENTINE DE LANDRO (X-Factor, Shadowman: Endtimes, GI Joe, Spider-Man) and KELLY SUE DECONNICK (Captain Marvel, Pretty Deadly)
Join us on Wednesday December 10th from 10am-12pm and meet series artist Valentine De Landro at our signing to celebrate the release of Bitch Planet and take advantage of the following deals when you purchase a copy of Image Comics' Bitch Planet #1 to be signed:
FREE Stadium Comics Certificate of Authenticity for books signed at our store.
FREE Copy (your choice) of Saga #1, Chew #1, or Thief of Thieves #1! *
X-Factor Hardcover Graphic Novels only $3.99 each!
X-Factor Paperback Graphic Novels only $1.99 each!
– Get these signed!
Purchase any Blank Variant cover comic for only $1!**
The fine print:
*Image Firsts Edition. Only while supplies last, 1 free book for each copy of Bitch Planet #1 you purchase.
**You will be eligible to purchase only 1 Blank Variant cover comic for each copy of Bitch Planet #1 you purchase. Offer only available on Blank Variant cover comics regularly priced at $4.99 or lower.
ABOUT BITCH PLANET #1:
2014 Best Writer Eisner Award nominee KELLY SUE DeCONNICK (PRETTY DEADLY, Captain Marvel) and VALENTINE DE LANDRO (X-Factor) team up for the very third time to bring you the premiere issue of BITCH PLANET, their highly-anticipated women-in-prison sci-fi exploitation riff. Think Margaret Atwood meets Inglourious Basterds.
Stadium Comics 
499 Main Street South, Brampton, ON L6Y 1N7
+1 905-451-3751