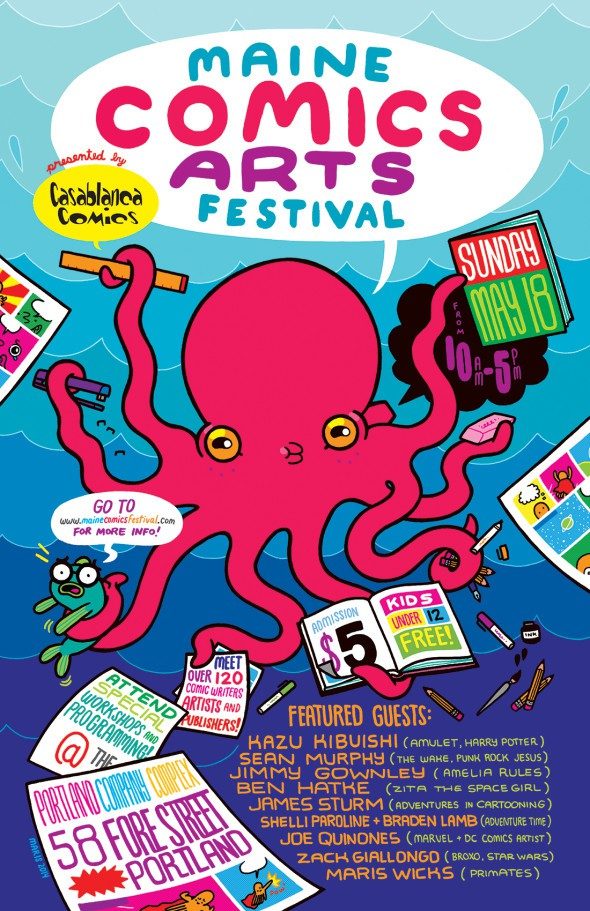 The Maine Comics Arts Festival (MeCAF) has released their programming schedule for the 2014 show to be held on Sunday May 18th:
10:00 – 1:00: Book signing with Big Nate creator Lincoln Peirce (in the main hall)
10:30 – Unusual comics! Choose your own adventure! with Jon Chad
How does your comic become a book? If you thought that a book is just made up of a cover, back cover, and all the business in-between, think again! Explore a variety of folding and book construction techniques and make your own unfolding, choose-your-own-adventure minicomic!
11:30 – DRAW ON YOUR CREATIVITY:
Comic book artist Jay Piscopo invites students to try their hand at cartoon art and demonstrates how anyone can learn to draw and create comics. Using simple geometric shapes, Jay teaches kids how to build anatomy and perspective to create art that tells a story. Stand by for adventure with this interactive workshop! Watch a short video clip at the link…
12:30 – Ben Hatke: The Three Secrets of Comics:
Discussing images in a narrative, gesture, and drawing from life, Ben Hatke (Zita the Spacegirl) talks about three secrets behind making amazing comics.
1:30 – Iron Cartoonist:
This competition will determine the MeCAF Iron Cartoonist Champion! Watch as three talented cartoonists draw against the clock, with suggestions from the audience. Special guest judges will determine the winner.
2:30 – A conversation with Jimmy Gownley and Kazu Kibuishi:
Join us as we discuss comics with Jimmy Gownley (The Dumbest Idea Ever, Amelia Rules) and Kazu Kibuishi (Amulet, Flight).
3:30 – Panel discussion about gender and race issues in current comics, with artists Melanie Gillman, Kori Handwerker and others.
The Maine Comics Arts Festival will be held in Portland, ME on Sunday, May 18, 2014. Featuring over 100 comics writers, artists and publishers, this will be a celebration of the comics art form. This year's show will be at the Portland Company Complex (58 Fore Street, Portland, Maine 04101)! There will be everyone from mini comics publishers to seasoned professionals. There will be comic book writers and artists, gag cartoonists, newspaper cartoonists, web comics creators and more. The guests will have their own work available for sale. Some people will be doing sketches and selling original artwork. Others will have t-shirts, buttons and posters. All of them have one thing in common… a love of comics. Featured guests include: Kazu Kibuishi, Sean Murphy, Jimmy Gownley, Ben Hatke, James Sturm, Shelli Paroline, Braden Lamb, Joe Quinones, Zack Giallongo, Maris Wicks, and many more!