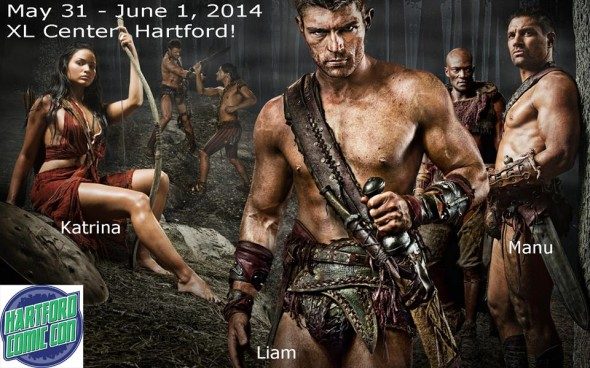 Press Release:
Spartacus himself, Liam McIntyre, joins co-stars Katrina Law (Mira) and Manu Bennett (Crixus) at the inaugural Hartford Comic Con on May 31st and June 1st at the XL Center!  The entire cast will appear on a panel on Saturday at 2:00 pm to reminisce and share stories about the show and talk about their new projects such as Arrow. VIP ticket packages are available on the website…
Other celebrity guests include Chandler Riggs (The Walking Dead), Giancarlo Esposito (Revolution, Breaking Bad), Brando Eaton (Dexter), and more! Plus appearances by over 150 of the comic book industry's top artists including special guests Ed McGuinness (Amazing X-Men, Nova), Tim Sale (Captain America, Batman), Jim Cheung (Infinity, Young Avengers), Dave Johnson (Deadpool, 100 Bullets), Kaare Andrews (Iron Fist, Ultimate Spider-Man), and so many more.
Hartford Comic Con will take place on May 31 – June 1, 2014 at the XL Center in Hartford, CT. For more information, tickets, registration, and the complete list of guests please check out the website: www.hartfordcomiccon.com and follow them on Twitter (@ HartfordCon) and Facebook!
*UPDATE* Please note that Manu Bennett and Chandler Riggs have had to cancel their appearances