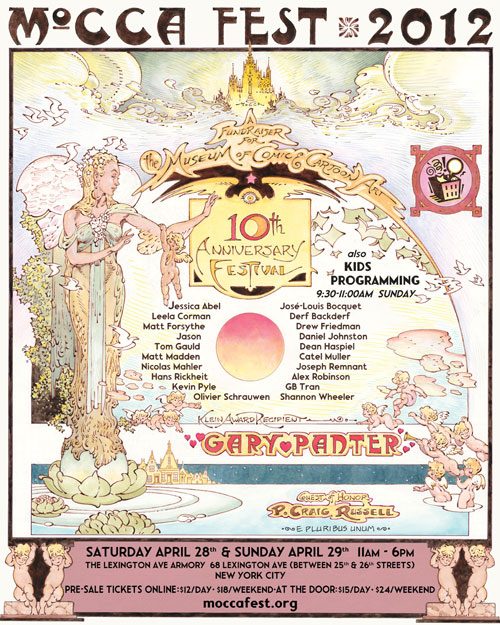 Press Release:
MoCCA Fest Programming!
We're pleased to announce final times, guests, and agendas for our panels and programs at MoCCA Fest this year. We have two buzzing floors of activity, that include downstairs panel discussions as well as our main exhibitor floor upstairs. Whether you're perusing the show floor for your favorite finds, catching up on the latest with Gary Panter, or learning to make your very own accordion book, there's something for everyone.
-And Families!
Don't forget about our Kids Programming on Sunday morning; four devoted programs in a row, designed to be entertaining and fun for the whole family.
–Sunday April 29th, Kids Programs start at 9:30am. Families arriving to the Fest at 9:30am get a special price; $5 for children 6-12 (under 6 free, over 12 normal) with a paying adult.
PRE-SALE TICKETS ARE ONLINE UNTIL APRIL 26!
Look below for a complete run of MoCCA Fest programming. Also, be sure to check out moccafest.org for news!
ROOM A
SATURDAY
11:15 Kids Comics Sarah Couri (NYPL), Jorge Aguirre, P. Craig Russell, Matt Forsythe,
Colleen AF Venable
You know that old cliche about comics not being just for kids anymore? Well, thankfully some of them still are. The New York Public Library's Sarah Couri talks to cartoonists who have ventured into world of kids comics and books.
12:15 A History of Comics Censorship
Alex Cox (CBLDF)
The Comic Book Legal Defense Fund's Alex Cox takes you on guided tour of censorship in comics, from Frederic Wertham to Friendly Franks.

1:15 The State of Small Publishing
Heidi MacDonald (The Comics Beat), Box Brown, Craig Yoe, Barry Matthews
What's it like running a small publishing company in 2012? The Beat's Heidi MacDonald talks to an array of publishers about the state of print.
2:15 Klein Award
Gary P anter, Bill Kartalopoulos
Gary Panter receives the 2012 Klein Award.
3:15 A Nordic Roundtable
Fredrik Strömberg (SE), Peter Madsen (DK), Kaisa Leka (FI), Bendik Kaltenborn (NO) and Mattias Elftorp (SE)
The comics culture of northern Europe is brimming with energy, talent and innovation, among other things visible in the new anthology Kolor Klimax from Fantagraphics. Come and meet some of the Nordic artists present at MoCCA.
4:15 Harvey Pekar's Final Projects
Jeff Newelt, Joy ce Brabner, Joseph Remnant , Rick Parker , Sean Pryor, Dean Haspiel, JD Waldman
Celebrating the life and work of comics pioneer Harvey Pekar with his widow, and writer in her own right, Joyce Brabner, joins a group of his artist collaborators.
5:15 Carousel
R. Sikoryak with Michael Kupperman, Domitille Collardey, Shannon Wheeler, Leslie Stein, and Lauren Weinstein. With voices by Julie Klausner, Dave Hill, Scott Adsit.
Live comics brought to life by cartoonists and a team of talented voice actors.
ROOM A
SUNDAY
11:15 Graphic Novels for Young Adults
Betsy Bird (NYPL), Raina Telgemeier, Kevin Pyle, MK Reed, Derek Kirk Kim
The New York Public Library's Betsy Bird talks to some of the brightest talents in one of comics' fastest growing demographics.
12:15 To Run a Comic Stop
Alex Cox (Rocket Ship), Tucker Stone (Bergen Street Comics), Thor Parker (Midtown Comics), Gabe Fowler (Desert Island)
Representatives from some of the area's top comic stores discuss the trials and tribulations of running your own shop.
1:15 Digital Distribution and the Future of Comics
David Steinberger (Comixology), Evan Dahm, Leigh Walton, Brian Heater
A frank discussion about sequential art's move into the digital age.
2:15 Memoir
Calvin Reid, Derf, Peter Kuper, Jennifer Hayden, Mike Dawson
Maker s of autobio comics discuss filter their lives through sequential art.
3:15 Daniel Johnston in Conversation
Daniel Johnston, Brian Heater
Join the idiosyncratic singer-songwriter for a discussion about his art, including his debut graphic novel, Space Ducks.
4:15 An Interview with Gary Hallgren
Gary Hallgren, Danny Fingeroth
Gary Hallgen, interviewed by Danny Fingeroth, discusses his career from his days as one of the creators of the notorious Air Pirates, through his illustration work for a zillion publications, from the NY Times and MAD through You: The Owners Manual.
5:15 Animation from Augenblick Studios and Ugly Americans
Aaron Augenblick, Devin Clark, R. Sikoryak
Aaron Augenblick (founder of Augenblick St udios), Devin Clark (creator of "Ugly Americans"), and more show animated clips and shorts from their television, film, and independent projects.
ROOM B
SATURDAY
12:15 With Nicolas Mahler and Tom Gauld
Nicolas Mahler, Tom Gauld, Brian Heater
Brian Heater interviews two artists; Tom Gauld of Scotland, and Nicolas Mahler of Austria.
1:15 Checklist for a New Comic: A Guide to Getting Started
Jess Abel, Matt Madden
In this brief seminar, Jessica Abel and Matt Madden will walk you through the many considerations you should keep in mind when you embark on a new comic of any kind. Abel and Madden will help you strategize and come up with a working plan for your next project, and will cover: creative block and coming up with ideas; choosing a format and platform that makes sense; setting goals and scheduling your time so that you can reach them; finding an audience and looking for collaborators and/or publishers. So bring some paper and be ready to take notes on your next big (or small) project!
3:15 Hans Rickheit in Conversation
Hans Rickheit, Brian Heater
Brian Heater takes on Hans Rickheit–musician, performance artist, cartoonist.
4:15 Big City Dare2Draw
Hosted by TJ Glenn & Charles D Chenet
Featuring dynamic figure drawing, with action poses, using props and, then, the signature "Quick Draw" Contests, with all art done on Blue Line Pro boards, for charity. Prizes provided by our sponsors. Dare2Draw is a non-profit, platform organization for artists, providing mentoring, networking and resources for artistic development, while encouraging goo d health and business practices for cartoonists and providing the opportunity to connect with each other, face-to-face.
ROOM B
SUNDAY
9:30 Kids Program: Comics Are Awesome!
John Green (Teen Boat!)
Learn how an idea in your head becomes a comic on a page. John Green and Colleen AF Venable will take you on a collaborative journey through the process of creating characters and stories for comics.
10:15 Kids Workshop: From Concept to Comic
John Green (Teen Boat!, Phineas and Ferb), Colleen AF Venable (Guinea Pig Pet Shop Private Eye, First Second Books)
Kids Program continues!
11:15 Workshop: Drawing with Rick Parker
Rick Parker (Beavis & Butthead, and Papercutz)
Join cartoonist Rick Parker for an insightful, funny and hands-on workshop in cartooning! This workshop is great for cartoonists of all ages.
12:30 CCS Presents: The Expanding Comic Workshop
Robyn Chapman (Center for Cartoon Studies)
If you think that a comic book is just a bunch of pages between two covers, think again!  There is a wide variety of book making techniques that allow you to fold, flip, and turn your comics in unusual ways. Jon Chad, author of Leo Geo and His Miraculous Journey Through the Center of the Earth, will team up with comics educator Robyn Chapman to introduce three unique book forms. Then the workshop participants will construct and illustrate their own expanding comic books!

2:00 A Discussion with Josh Neufeld and Shannon Wheeler
Josh Neufeld (A.D.: New Orleans After the Deluge), Shannon Wheeler (Oil and Water, Too Much Coffee Man)
These two creators interview one another about their work in comics, especially as it relates to their approaches documenting tragedy on the Gulf Coast.
4:00 Coming to America
Emma Hayley (Publishing Director, SelfMadeHero)
Reporting on the flourishing UK and European comics scenes and the launch of a new graphic novel imprint in the US.
4:45 Euro comics: Kiki de Montparnasse and the French Comics Scene
Doug Wallace, Jose-Louis Bocquet
Jose-Louis Bocquet (Senior Editor, Dupuis – France / Author, Kiki de Monparnasse) and Doug Wallace (Marketing Director, SelfMadeHero)
discuss the European comics scene and Catel & Jose-Louis Bocquet's first US graphic novel Kiki de Montparnasse.