William Shatner signs at Amoeba Music on Friday October 14th at 6pm!
Press Release:
The legendary and prolific William Shatner joins Amoeba in celebrating the release of his new space-themed concept album, Seeking Major Tom (out October 11 on Cleopatra Records) with a signing at Amoeba Hollywood!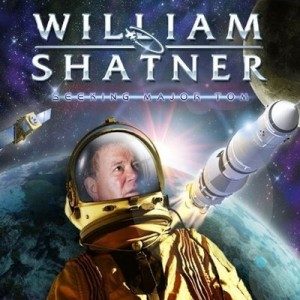 PURCHASE ONE OF THE FOLLOWING SHATNER ITEMS starting October 11 at Amoeba Hollywood:
– Seeking Major Tom (LP or CD),
– The Captains (DVD)
– Shatner Rules (Book)
And receive a ticket to attend the signing on 10/14.
Limit 2 (of the above) items and signing tickets per person.
Only these items will be signed by Mr. Shatner.
SIGNING IS LIMITED – first come, first served.
–       No personal photos with Mr. Shatner (Amoeba will have staff photographer taking event/fan shots and we'll post online after the event).
Seeking Major Tom info:
William Shatner returns to the final frontier of music recording with this space-themed concept album that boldly goes where no man has gone before – available on both 2-CD and 3-LP set!
• Features distinctive interpretations of classic, intergalactic anthems by David Bowie, Queen, Deep Purple, Elton John, Pink Floyd, Black Sabbath and more!
• Includes guest appearances by Zakk Wylde, Sheryl Crow, Ritchie Blackmore, Lyle Lovett, Steve Miller and Peter Frampton PLUS members of The Strokes, The Kinks, Tangerine Dream, Alice In Chains, Deep Purple, Yes, MC5 and more!
The Captains info:
Since first soaring onto television screens in the 1960s, Star Trek has become one of the most beloved franchises of all time. Now, the original Captain Kirk, William Shatner, travels around the globe to interview the elite group of actors (Chris Pine, Patrick Stewart, Avery Brooks, Kate Mulgrew and Scott Bakula) who have portrayed the role of Starship Captain, giving fans an exclusive behind-the-scenes look at the pop culture phenomenon as well as the men and women who made it so.
Shatner Rules: Your Guide to Understanding the Shatnerverse and the World at Large info:
This collection of rules, illustrated with stories from Bill's illustrious life and career, will show you how Bill became WILLIAM SHATNER, larger than life and bigger than any role he ever played. Shatner Rules is your guide to becoming William Shatner. Or more accurately, beautifully Shatneresque.
Because let's face it… Shatner does rule, doesn't he?
Amoeba Music
6400 Sunset Blvd, Los Angeles, CA 90028