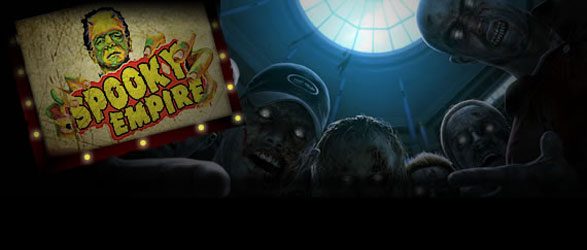 Press Release:
COME ONE, COME ALL, TO THE GREATEST SHOW IN HELL!
This weekend Spooky Empire returns to the Wyndham Orlando Resort on October 7-9, 2011
Spooky Empire is proud to announce the greatest gathering of horror icons to ever hit the state of Florida, including a Killer Klowns From Outer Space Reunion featuring the creators Stephen, Edward and Charlie Chiodo, Suzanne Snyder, Grant Cramer, Harrod Blank and Mike Martinez. Legendary author Clive Barker ("Hellraiser", "Candyman") will be on hand all three days to meet his fans as will the very recognizable actor Malcolm McDowell ("A Clockwork Orange", "Caligula", "Heroes", "Entourage").
But that's not all…also making appearances at this three-day fest will be Lance Henriksen from hit films including "Aliens" and "Terminator" and the television show "Millennium". From the very popular HBO series "True Blood", Sam Trammell "Sam", Kristin Bauer "Pam" and Mariana Klaveno "Lorena" will be greeting their hordes of fans. Horror fan favorites Jeffrey Combs ("Re-Animator") and Tom Atkins ("Halloween II", "The Fog", "Night of the Creeps") are also slated to appear.
Some returning guests and Spooky Empire favorite are Tony Todd ("Candyman"), Doug Bradley ("Hellraiser"), Kane Hodder ("Friday the 13th VII & VIII"), Bill Moseley ("House of 1,000 Corpses") and paranormal favorites Steve Gonsalves and Dave Tango from GhostHunters. William Katt ("Carrie", "Greatest American Hero") will be 'flying' in to meet his fans plus come out and meet The Boondock Saints, Norman Reedus, Sean Patrick Flanery and David Della Rocco.
Spooky Empire has added a little bit of rock n roll to their lineup with the addition of Steven Adler "Guns n Roses", Jacoby Shaddix "Papa Roach", Paul Phillips "Puddle of Mudd", and Bobby Blotzer "Ratt".
The weekend will be packed full of incredible events, kicked off by their annual Zombie Walk hosted by Uno's Chicago Grill, Film Festival, Tattooing, Celebrity Charity Poker Tournament, Hearse & Creepy Car Show, Costume Contest, Live Bands featuring "Soulidium", "The Green Goblyn Project" and "SML8", and Friday night's DeadBangers Ball by the pool. Let's do the time warp again, with a live shadowcast of the Rocky Horror Picture Show, hosted by original cast member Barry Bostwick "Brad" and much more!
Advance tickets for this ultimate event are available now! $50 gets you in for the whole weekend, that's all three days of horror mayhem! One day passes are just $30 and $35.
Reserve your rooms soon! The Wyndham is close to selling out and you don't want to pass up the opportunity to stay on the premises. Rooms at the Wyndham are still just $99 a night, if you mention "Spooky Empire".The Wyndham reservation line is 1-800-421-8001.
Spooky Empire, Inc.
For more info visit our website:
www.spookyempire.com