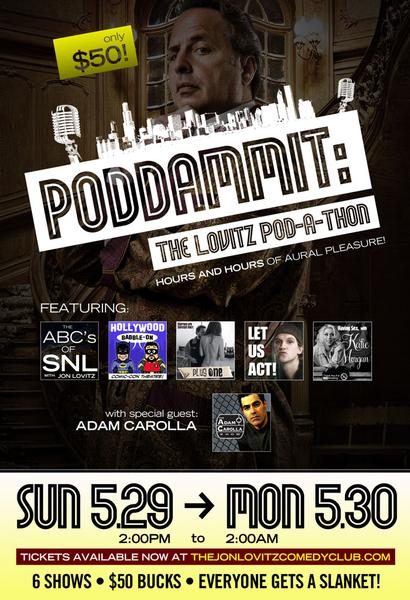 Press Release:
Be there as the Jon Lovitz Comedy Club becomes the Jon Lovitz Podcast Theatre!  Filmmaker, S.I.R. host and podcast extraordinaire Kevin Smith introduces a stellar lineup of new shows talking shit on the Lovitz stage! This Memorial Day Weekend event will begin at 2pm on Sunday, May 29th and ends at 2am on Monday, May 30th. Limited to 250 attendees. Click here for tickets!
 
Drink hooch, eat food, and laugh yourself silly listening to and actually seeing podcasts in their natural habitat: The Lovitz!
 
Check out the brand new debuts of…
 
The ABC's of SNL, with Jon Lovitz & Kevin Smith.  Take a journey into television history with a guy who lived it!  Jon Lovitz opens the vault and spills stories of how a little kid from Tarzana wound up as one the most legendary Not Ready For Prime Time Players of all time!  This is the premiere episode of the new SModcast.com weekly podcast, and if youve heard Lovitz filling in on HOLLYWOOD BABBLE-ON, you know this is gonna be a hot ticket!
 
LET US ACT!   The premiere episode of the interactive podcast where audience members re-create classic scenes from famous flicks with master thespian Jason Mewes and master auteur Kevin Smith!
 
BABBLE-ON COMI-CON THEATRE!  Get under your slanket and get ready for bed, as Ralph Garman and Kevin Smith read to you from the comic book BATMAN: CACOPHONY.  Complete with sound effects, Ralph's Adam West impression, and read-along comic.  You'll know its time to turn the page at the sound of the beep.
 
Having Sex with Katie Morgan. Adult Film Star Katie Morgan answers anonymous audience questions about sex and all things sexy.  Co-Host Kevin Smith tries to keep the blush factor uncomfortably high, in this no-holds barred discussion.
 
PLUS ONE!  Watch a man & his wife try to not kill each other, live on stage!  The iTunes #1 podcast and #2 morning show takes the stage, as Jennifer Schwalbach finally joins Fatty McNoFly to talk about Schwience and the Fishies that Have No Eyes!
 
All that and special guest, podcasting legend ADAM CAROLLA!
 
This is a once-in-a-lifetime event!  All for a mere $50!  And every ticket comes with a FREE SLANKET!
 
Join us for hours and hours of aural pleasure – only at The Lovitz!
The Jon Lovitz Podcast Theater, 222 Universal City, CA 91608